ENGLAND v WALES 1933 - Match winner Ronnie Boon, who's dropped goal and try won the day for Wales describes Wilf's match winning tackle in an interview in The Times (2/2/83).
"Wilf however, who had had a good game was soon to prove what an exciting player he was. Wales were dominant now , but suddenly England gave us a terrible shock. The ball materialized with Elliot between the 25 and the half way line and he broke clear with no one to stop him. Then out of the blue came Wilf Wooller, only 18 and playing his first game for Wales, who started to chase him. Imagine the scene the stands full of Englishmen on their feet cheering madly, and the banks behind the posts lined with stunned Welshmen seeing a great victory about to slip away from them. Elliot would have touched down under the crossbar. Then Wilf this tall young man with his long sprinter's strides imperceptibly at first, and then noticeably and with great increasing velocity, closed the gap and brought Elliot crashing down near the Welsh line. Wilf undoubtedly saved the game for us."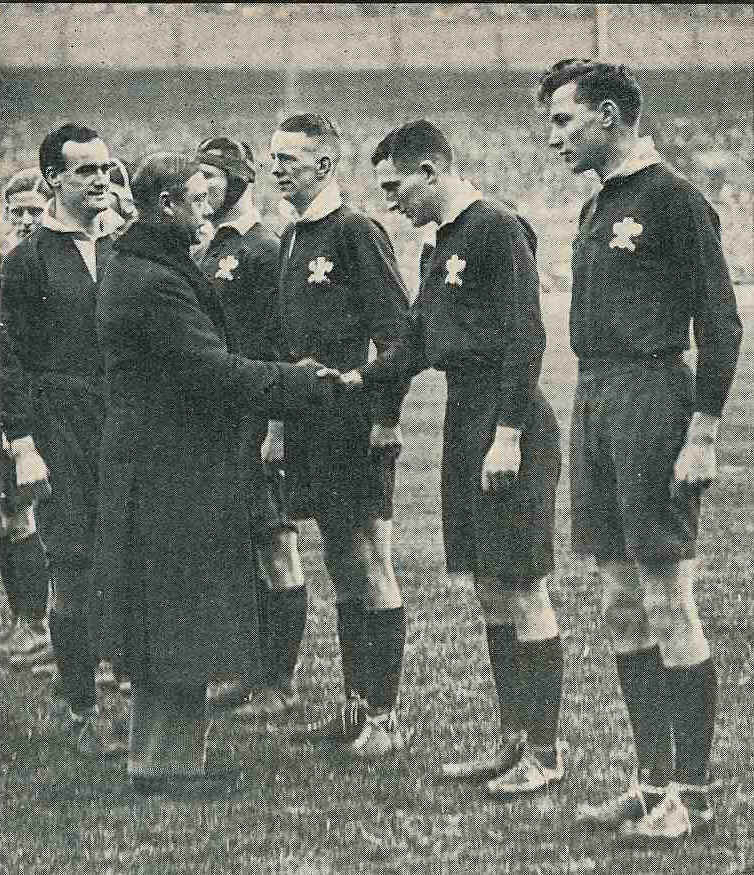 Wilf on the far right about to meet the Prince of Wales
The 6' 2" Wooller proved the press and selectors' faith in him, playing a strong defensive role in the team that, at the tenth attempt, finally managed its first win at Twickenham. He had alongside him in the centre that day his Sale partner Claud Davey, whose tackling was the perfect foil to Wooller's abrasive running and siege-gun kicking. He was an ever-present in the Welsh side that year, though the promise of Twickenham quickly evaporated into defeats for Wales at Swansea (against Scotland) and in Belfast.
And that was the end of Wooller's Welsh rugby for nearly two years. Going up to Cambridge in October 1933 he duly won the first of his three rugby Blues, playing at the shoulder of another great Welsh player, Cliff Jones. Curiously he was omitted from the Welsh trials that autumn and missed all of Wales's three internationals in 1934. Then a brilliant performance for the Cambridge side that routed Oxford 29-4 in December 1934, when Wooller dropped a goal from just inside his own half, brought him sharply back into the focus of the Welsh selectors. "That dropped goal pitched in the upper deck of Twickenham's North Stand," he once reckoned.
When Idwal Rees withdrew from the Probables in the final trial the same month, Wooller was reinstated and returned to the international side in January 1935. He was the mainstay of the side thereafter and missed only one match (through injury) up to the outbreak of the war.
It was during his Cambridge and Cardiff days that the best was seen of him, playing alongside the will-o'-the-wisp fly half, Cliff Jones. Wooller could win matches with wonderfully creative play, often scoring near-impossible tries or kicking towering goals. Yet he could also save apparently certain tries by delivering the most lethal of crash tackles.
Even so, it was his sheer determination and never-say-die attitude that helped Wales to its most famous victory of his era, against New Zealand in 1935. With Wales trailing 12-10 and a man short, Wooller's opportunism led to the thrilling late winning try. He made the carefully-judged kick ahead that deceived the All Blacks and allowed Geoffrey Rees-Jones in for the decisive score. The move was practically a carbon-copy of one involving the same players earlier in the match and which led to Wales's second try.
The Daily Telegraph's Howard Marshall, the leading critic of the day, described Wooller's rugby talents as "like the sacrificial car of Juggernaut, leaving a trail of prostrate figures in his wake."
Wooller captained Wales in 1939, but it was in the Middlesex Sevens of that year that he achieved what he considered a highlight of his rugby-playing careeer: leading Cardiff, as the guest side, to victory in the annual Middlesex Sevens. "Six of us had never played sevens before," he said many years later. He was still in his prime when the outbreak of war effectively brought his international rugby career to an end. He was commissioned into the Royal Artillery serving with the 77th Heavy Anti-Aircraft Regiment, but managed to figure prominently in many of the popular war-time charity internationals staged in 1939-40.
All that was missing from his otherwise impeccable rugby cv was a place on a Lions tour. In 1938 he was invited to make the visit to South Africa with Sammy Walker's tourists, but business commitments with a Cardiff company prevented him from accepting. On the firm pitches of the veldt he would have been a sight to behold.
After coming down from Cambridge in 1935 he had entered the coal trade that flourished in Cardiff Docks working for the business tycoon Sir Herbert Merrett. Wooller could not afford to take unpaid leave for the duration of a major tour.
.Still, if one door closed another opened, for in mid-June of that summer he made his Glamorgan debut taking 5-90 at Cardiff Arms Park on the opening day of the Championship match against Yorkshire. He played cricket as part of his annual paid leave. Later his cricketing commitments would prevent him from covering a Lions tour as a critic. It was one of the few regrets he had in a career that otherwise brought him complete fulfilment.
His last international rugby appearance was at the Parc-des-Princes in February 1940 when a British Army side, playing exhilarating rugby, demolished France 36-3. Wooller scored a hat-trick of tries in a game that marked France's rehabilitation as an international rugby force, the Tricolores having been banished from competition with the Home Unions in 1931.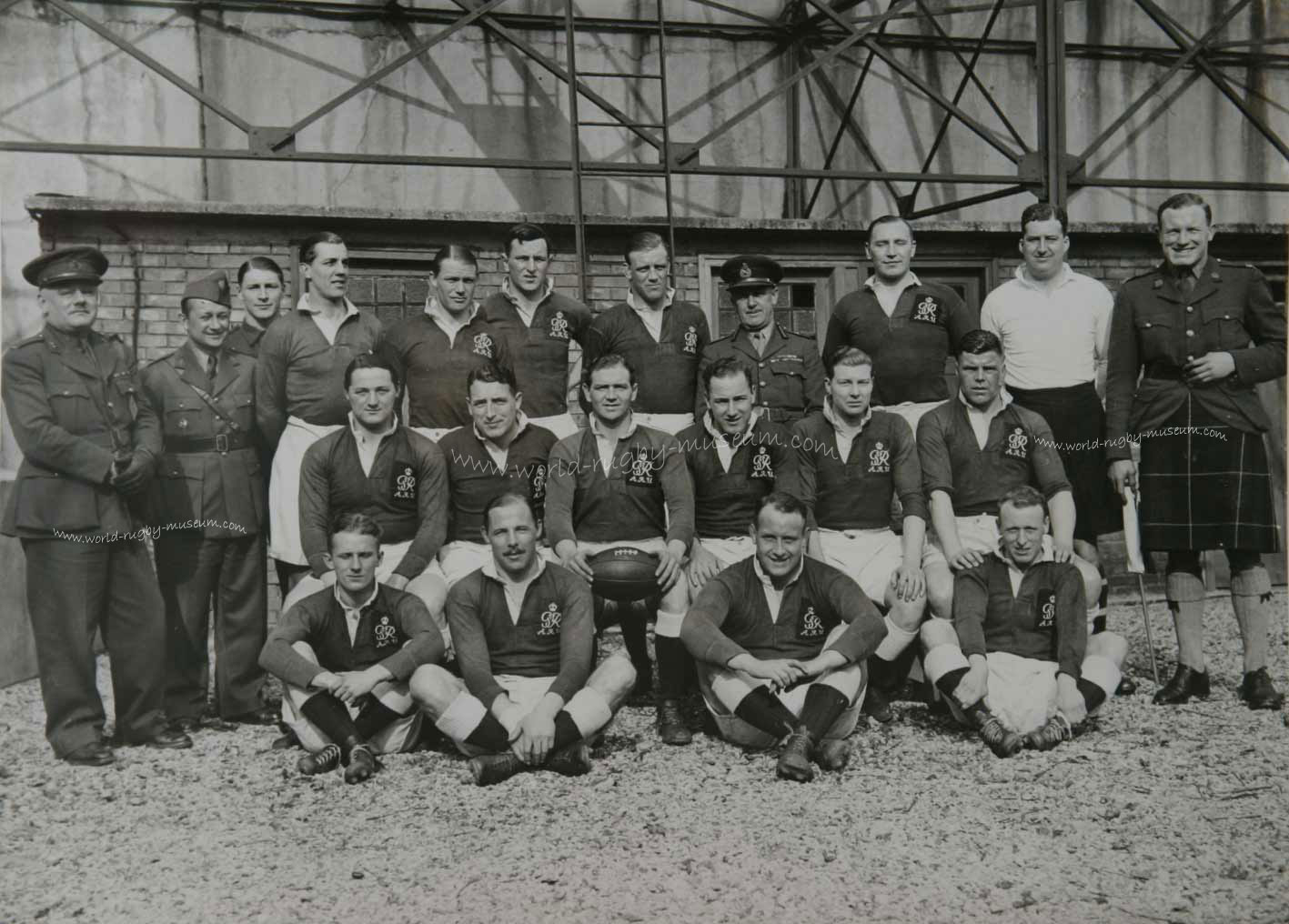 The British Army team that thrashed France
In 1942, he was captured by the Japanese at Java and imprisoned at Changi jail for the rest of the war. In The Skipper, Dr Andrew Hignell's biography of Wooller, the former p.o.w. told of the physical and mental toughness he needed to survive that horrendous ordeal. "If I was to get anywhere, I'd have to achieve it myself by sheer drive and force."
These were qualities that the remarkable prisoner showed he had by the bucketload. He successfully bartered for a strip of land in which he was able to grow bananas. "The skins were an important source of fibre," he said. He survived, returned to Cardiff the shadow of the physical giant who had put the wind up the All Blacks, and after one post-war appearance for Cardiff never again played rugby.
During the war he had married Lady Gillian Windsor-Clive, but the marriage was dissolved shortly after his return to Britain. He married Enid James in 1948, the start of a long and happy family life that accelerated his physical recovery. He had resumed the county cricket career that had flourished before the war, when he had also won two cricket Blues at Cambridge, and quickly established himself as an all-rounder with leadership potential at Glamorgan.
He succeeded Johnnie Clay as the county's captain in 1947 and led the Welsh county to its inaugural County Championship title in 1948. He finally stood down as captain in 1960 and played his last match two years later, but remained a strong influence on Glamorgan cricket, serving as secretary until 1977. Later he was their president. A true-blue amateur, he brought a thoroughly professional approach to his cricket and was highly respected as an England selector between 1955 and 1961 during Peter May's successful captaincy.
Cricket is a game that reveals much about character and many of the incidents that Wooller was involved in illuminated his determination to win and his larger-than-life presence. Whether true or apocryphal, the stories about his antics on the cricket field convey his hatred of losing and the barracking he could give batsmen. The same Peter May allegedly once took umbrage when Wooller ran him out backing up before the bowler had released the ball during a County Championship match with Surrey.
May enquired politely: "Isn't it customary to give the batsman a warning?"
"Not in Swansea," replied Wooller.
Tom Graveney was another fine England batsman who was once sent packing by a typical Woollerism after knocking Glamorgan around. "That was the worst double-hundred I've ever seen Tom," he declared in his stentorian voice as Graveney, no doubt feeling quite pleased with himself, headed back to the pavilion.
Another dispute at Swansea, when Wooller was secretary, has been well documented. He became so annoyed by Brian Close's captaincy during a Somerset match at St Helen's in 1972 that he announced over the tannoy: "In view of Somerset's negative approach, we are happy to refund the admission money of any spectator who wishes to call at the county office."
He ruled Glamorgan with an iron fist; there were never any velvet gloves around when Wooller was present. Some players, even on his own side, were intimidated by his overbearing manner; others – usually opponents – resented it. But his heart was always in the right place and he put Glamorgan cricket on the national map. Vivian Jenkins, his old rugby and cricket friend, recalled that Wilf was always the first to buy the opposition a pint afterwards, no matter how heated the cut and thrust of the game had been. Superficially he could appear brash and arrogant; inside he was shy and modest.
It was a view corroborated by JBG Thomas, who referred to him as "The Godfather of Glamorgan Cricket". Thomas worked closely with Wooller as a journalistic colleague in the rugby season and reported Glamorgan cricket in the summers. Thomas described him as enigmatic. "To those who know him well [he] is, deep down, a shy and kindly man, far more retiring in manner than his public image would suggest."
A compelling figure, Wooller was an outspoken broadcaster as well as a trenchant critic for the now defunct News Chronicle after the war. Years later, on Welsh Sports Parade, a Monday evening sports magazine put out by BBC Wales television, he once very publicly took to task a well-known Wales wing threequarter who had missed a try-scoring pass in a losing international. Arguments and disagreements were frequent, though there was never any lasting malice.
His observations on sport, perceptive and provocative but always honest, continued to entertain readers, listeners and viewers in Wales. He spoke with enthusiasm and a depth of knowledge. One of his most memorable outside broadcasts came from St Helen's on a lazy Swansea afternoon in the late summer of 1968 when cricket history was made by Garry Sobers. Playing for Nottinghamshire, the former West Indies' captain knocked six sixes off a Malcolm Nash over while Wooller was at the microphone.
He campaigned vigorously in support of sporting relations with South Africa at the time of the anti-apartheid demonstrations against the rugby and cricket tours in 1970. He argued that politics should not relate to sport. He was blithely scornful of the views of sports ministers – Conservative and Labour – and told the Archbishop of Wales that supporting demonstrators was disgraceful. He sent the cleric off with a flea in his ear: "It's time the Church confined itself to the spiritual matters I find sadly lacking in these permissive times."
Wooller never backed down and never bowed to political correctness. Even as a pensioner on the Cardiff crown-green bowls circuit his combative spirit, by all accounts, was still to the fore. He relished challenges. How he would have loved 21st-Century Britain! Once, though, he was completely disarmed by bureaucracy gone mad.
In 1961, when the Sunday Telegraph launched as a national broadsheet competitor to The Observer and Sunday Times, Wooller was installed to comment on rugby and cricket. He became the backbone of the newspaper's sports pages.
In late October 1973 their correspondent was due to do a weekend report of the Cardiff v Cambridge University rugby match – his two former clubs as it happened. He was denied entry to the Arms Park. An officious steward who knew Wooller well demanded to see his press pass. He didn't have it. His column the next day was hilarious.
"I must admit that as I know most stewards and committee men on most of the grounds in Wales I thought this joker was joking, but as I moved to enter [the steward] forcibly stopped me assisted by another gateman. So, not having a pass I quitted the premises, a sadder and perhaps wiser man."
"The irony of the situation later struck me. I joined Cardiff as a player in 1936, then as a serving soldier after the committee had closed down the club accounts I captained and rallied the team and before the end of the [1939-40] season we had handed many thousands of pounds to war charities before the timid committee came back to take over."
"After the war I served the club as a committee man. In short, a serving, fully paid up member for 38 years, a paid up member of the NUJ, but still rudely stopped watching Cardiff play Cambridge, for whom I played in 1933-34-35: the two clubs in my life, in fact."
"Prominent old Cardiff players have often growled about the bureaucratic set up in the club, several stay clear because the better they were as a player the less they felt welcome; but personally this is the first time I have seen it in action."
"The next time I approach the holy of holies I shall take my prayer mat, kill a fatted calf, crawl in on my knees and ask to be pardoned. I am sure that splendid rugby committee will consider my case favourably if I bow low enough."
It was pure Wooller.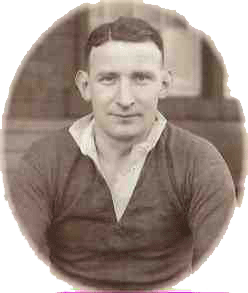 Haydn Tanner
For all the great rugby players he played with or watched he always maintained that Haydn Tanner was the nearest to perfection. Back in January 1935, when Wooller was rehabilitated in the Welsh side, he had played for the Probables against the 17˝-year-old schoolboy scrum-half in a final Trial in front of 30,000 at Swansea.
Wooller was immediately impressed by the Swansea teenager. "The Welsh selectors were in a dilemma. They wanted to play Maurice Turnbull but he was outplayed by Tanner in the trial. When the side to face England was announced, the Big Five had A N Other at scrum-half. The weekend before the international Cardiff played Swansea at the Arms Park. But the selectors felt Tanner was too young and Turnbull not good enough, so turned to the veteran Wick Powell, who was then playing at Northampton," he remembered many years later.
"Tuppy" Owen-Smith, the Oxford and England full back and South African Test cricketer was another admired by Wooller. Owen-Smith's defence won the 1933 Varsity match for Oxford, when Wooller won his first Blue, and his ankle-tap on the Welshman at Swansea in the 1936 Wales-England international robbed Wooller of a try that would have led to a Triple Crown.
Among the post-war generation he rated Cliff Morgan, Barry John and Gareth Edwards among the greatest rugby players he had seen and reckoned big Rhys Williams of Llanelli was the most intelligent hard-core forward of the post-war generations.
His favourite match was the 1967 Wales-England encounter when Keith Jarrett, a teenager playing out-of-position at full back, scored 19 points to deny England the Triple Crown. Wales won by the then staggering scoreline of 34-21. In Wooller's five appearances for Wales against England in the thirties the two sides accumulated only 26 points.
"This spectacle, to one who had fought England over dour 80-minute periods, was something one could not quite believe," he told readers. "The pace was as hot as the [spring] weather and it never let up for an instant of the 80-odd packed minutes of movement. Spectators at this memorable contest will no doubt forget the score, if not the broad outlines of the game, but I doubt very much whether any single individual present will ever forget Jarrett's superb try in all its glorious technicolour. And the strangest thing of all is that happened in a game between England and Wales"
Like his press-box contemporaries Vivian Jenkins and JBG Thomas he championed the introduction of the differential penalty and increasing the value of the try. He was a vigorous campaigner for players to join rucks and mauls from their own side and wanted referees to police more strictly the ten-metre offside lines at set-pieces. One of his quirkier suggestions for reducing the power of the penalty goal was to narrow the goalposts by a metre.
Welsh sport's man for all seasons – he had even played centre forward for Cardiff City in 1939 and was a squash international – died in his sleep in March 1997, aged 84. Among the many tributes paid, Sir Tasker Watkins VC, president of the Welsh Rugby Union, said Wooller was "one of the greatest sportsmen Wales has ever produced, indeed there is any amount of evidence to suggest that he was the greatest of them all."