EXHIBITION HOME - World Rugby Museum Home - Rugby in the town of Neath - RUGBY RELICS HOME
Some Welsh players & personalities from the Neath area

ALBERT FREETHY

The first referee to send off a player in international rugby was Albert E Freethy of Neath when he sent off Cyril Brownlie, an All Black forward at Twickenham in 1925. The match was always going to be a tough contest to control The English team coming off back to back grand slams in 1923 & 4, hadn't lost match in three years (v Wales in 1922) while the all conquering All Blacks were coming to the end of an unbeaten tour, having swept all before them, their last defeat was against the Springboks in 1921. In the first 8 minutes Freethy handed out 3 warnings to the battling forwards so it was no surprise when Brownlie stamped a prostrate English player, it was time for a player to walk. The Neath man was without doubt one of the finest referees to grace international rugby, he was the man in the middle at the last Olympic Rugby Final in 1924 as well as controlling all France v England matches in Paris between the wars. Albert Freethy is best remembered for the Brownlie incident and his refereeing but as well as this he was a wonderful coach and a fine administrator, serving on both the Neath and Welsh Rugby Union commitees for a number of years. He was at least half a century ahead of the game when he used the unusual approach of chalking his teams tactics on a blackboard. As a school teacher at Alderman Davies School he guided his team, the Neath Ex-Schoolboys XV to four invincible seasons between 1922 & 1926. So successful was t his team that they drew crowds of 4000 + when they played on the local Cwrt Herbert playing fields.

1924 Olympic Rugby Final programme - France v USA - referee Albert Freethy, (although listed as CE Freethy) (WRM-0220)

Brownlie gets his marching orders in the 1925 match. (WRM-PL)

Invitation to the post match dinner between France and England. Albert Freethy refereed every France v England international between the wars. (WRM-0039)
RON WALDRON

Neath legend Ron Waldron was picked for Wales to play against Ireland in the Five Nations tournament in 1962. However a smallpox outbreak in the Rhondda meant that the Welsh team was unable to travel and the match was postponed until the following November. Ron was overlooked for the re-scheduled match which saw Neath team mates Grahame Hodgson win the first of 15 caps and flanker John Davies win his only cap (Davies was to go North* a year later and tragically died while playing for Dewsbury in 1969). Ron sat out another two years before being selected for the first ever Welsh international tour to South Africa in 1964. He played in two of the matches but did not gain selection in the test match so that Welsh cap still did not come his way. Finally ! on January 16th 1965, three years after first being selected, Ron took the field at Cardiff Arms Park against England and continued to play in all 4 matches of the championship that season. The icing on the cake for Ron and his team mates was that this was a Triple Crown year for Wales with victories over Scotland at Murrayfield and Ireland in Cardiff.

SA tour 1964 - blazer badge and tour tie. (WRM-0293/0292)
Facsimile autographs of Welsh team. This 'printed' autograph sheet was handed out to supporters during the tour. (WRM-0332)
1962 & 1965 programmes, the important matches in Ron's career. (WRM-RR)
*'TO GO NORTH'

"To go 'North' is a term in Welsh Rugby that relates to players turning professional with the Rugby League clubs of Lancashire and Yorkshire . Widnes , Salford , Wigan , Leeds , Warrington and Bradford Northern to name just a few of the evil predators whose 'scouts' stalked the touchlines of the leading Welsh clubs. Even up until the late 1970s once a player went 'North' he was completely ostracized from the Rugby Union game. He wasn't even allowed to cross the threshold and have a pint in the local rugby club. Hundreds of talented Welsh players were lost to the game, some came back but most stayed up North and were lost to Wales forever.

One such scout turned up at Newport to try his luck with the up and coming Welsh Rees Stephens. This is how his journal records that event

"

Saturday Oct 13th 1945

- Left Neath for

Newport

by bus & arrived there about 2.30. Quite a large crowd there. Lovely pitch but very heavy. In the first few minutes they scored 2 lucky tries and this upset the whole side. Anyway after a good game of open football they won 22-11. After bathing a

Leeds

scout asked G Hughes and myself if we would like to "GO NORTH". I told him to "GO TO HELL"
AMBROSE BAKER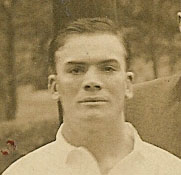 The centenary of Rugby Football was celebrated with a special match played at "The Close" at Rugby School, the place where it all began. An England/Wales XV took on a Scotland and Ireland combined side. The match generated a huge amount of interest and controversy. An element of the RFU wanted the game played at Twickenham where a far larger crowd could be entertained and the profits much greater, others wanted the match played at Rugby School. The traditionalists won the day and amid much ceremony and pomp the match took place and rugby celebrated it's centenary in style. Neath had a lone representative in the England/Wales line up, Ambrose Baker a collier from Neath packed down at forward amongst the great English forwards. England were in between back to back Grand Slams, they were led by the great Wavell Wakefield, who was later to marry a Neath girl and don the black jersey of Neath on the occasional visit to the town.
match programme (fold over card) front cover. (WRM-0126)
match programme centre, team line ups have been signed by all players except Arthur Cornish

front cover post match dinner menu

(WRM-0124)

dinner menu

Back row - left to right - HM Locke, S Morris, T Roberts, GS Conway, WEG Luddington, Ambrose Baker, VH Cartwright (referee), Rowe Harding, G Michael.

Front row - left to right - T Voyce, CA Kershaw, WW Wakefield, WJA Davies, F Baker, T Johnson, RA Cornish. (WRM-0125)
NIGEL WILLIAMS

Over the years the town of Neath and it's surrounding area have been blessed with more than it's fair share of international referees, Albert Freethy, Harold Phillips, Ivor David, Clive Norling & Clayton Thomas to name just a few. The latest in this long line of men in the middle is recently retired Nigel Williams, who has the distinction of being Neath's first professional rugby referee. Nigel is shown here sending of Simon Shaw in the New Zealand v England match in Auckland 2003. The irony being that the first ever referee to send off an international player was Albert Freethy from Neath who send off Cyril Brownlie of New Zealand against England in 1925.

Nigel took up refereeing at the age of 30. As a player he represented Wales U16s at scrum half and captained Wales in the first ever World U19s Sevens tournament. In a distinguished refereeing career he has taken charge of matches in the Six Nations Tournament, the Parker Pen Shield Final, the inaugural Celtic League final and Rugby World Cup 2003 including England's 111 - 13 victory over Uruguay.

"Off you go" - Simon Shaw gets his marching orders.

Nigel Williams

Clayton Thomas, international referee, uncle of Nigel Williams

On display - the jersey Nigel was wearing when he sent Simon Shaw off (WRM-0195)
GO FORWARD TO NEXT CASE - CLICK HERE
... ...
EXHIBITION HOME - World Rugby Museum Home - Rugby in the town of Neath - RUGBY RELICS HOME