EXHIBITION HOME - World Rugby Museum Home - Rugby in the town of Neath - RUGBY RELICS HOME
Miscellaneous memorabilia loaned by Neath RFC and members of the public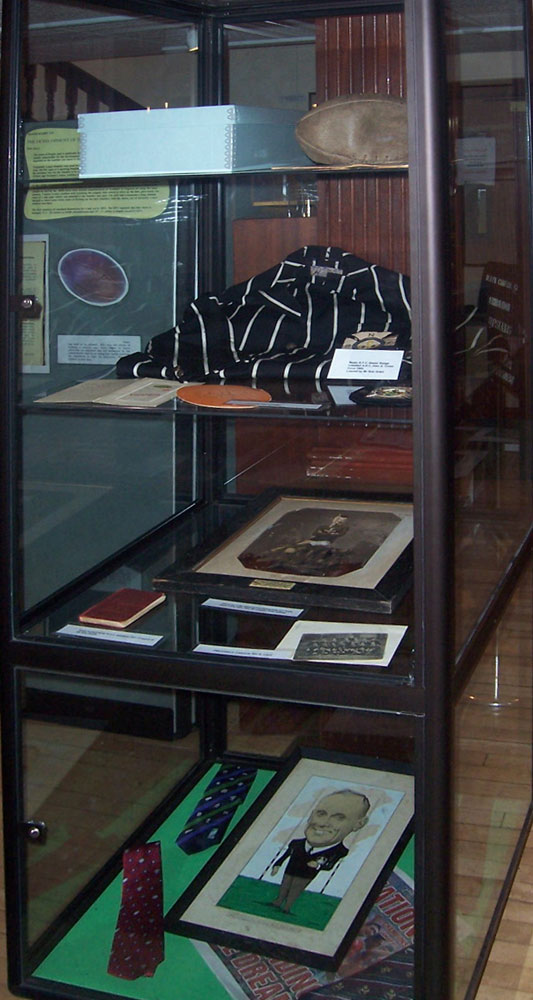 Top shelf - box containing Welsh jersey & cap of Cyril Challinor, loaned by Crynant RFC, 1960s ball (WRM-TC).
2nd shelf - Neath RFC blazer, circa 1930s loaned by Neath RFC, 1900s Neath RFC blazer badge loaned by Bob Grant, 2 Welsh dinner menus signed by Dai Morris loaned by ????
3rd shelf - Photo of Philip Brain, circa 1870s, WRU handbook 1913-14 & 1905 Welsh team postcard loaned by members of the public.
Bottom shelf - Misc memorabilia loaned by Neath Port Talbot CBC employees
GO FORWARD TO PHOTO & PRINT GALLERY - CLICK HERE
... ...
EXHIBITION HOME - World Rugby Museum Home - Rugby in the town of Neath - RUGBY RELICS HOME