The Home of Welsh Rugby
There are hundreds if not thousands of players, committeemen and personalities who have shaped Neath rugby through the years. To list all would a long, if not impossible job, if someone is missing from this page, please forgive us. We have been making a start on this job and have been able to put together some information on the players and personalities below. Please bear with us as we work towards adding the rest....................
| | |
| --- | --- |
| | The first recorded match in Wales is one between Swansea and Neath on 7th February 1872. Dr TP Whittington, pictured left is credited as being the founding father of Neath rugby. In 1873 he played for Scotland but was listed as being a player from Merchiston College. |
| | |
| --- | --- |
| (WRM-218) | In 1890, one of the great Neath characters made his bow. He was Bill Jones, originally a wing, who later moved into the pack "due to failing eye-sight" and captained the Club for some seven seasons before becoming its first Life Member. |
ALBERT FREETHY

The first referee to send off a player in international rugby was Albert E Freethy of Neath when he sent off Cyril Brownlie, an All Black forward at Twickenham in 1925. The match was always going to be a tough contest to control The English team coming off back to back grand slams in 1923 & 4, hadn't lost match in three years (v Wales in 1922) while the all conquering All Blacks were coming to the end of an unbeaten tour, having swept all before them, their last defeat was against the Springboks in 1921. The Neath man was without doubt one of the finest referees to grace international rugby, he was the man in the middle at the last Olympic Rugby Final in 1924 as well as controlling all France v England matches in Paris between the wars. Albert Freethy is best remembered for the Brownlie incident and his refereeing but as well as this he was a wonderful coach and a fine administrator, serving on both the Neath and Welsh Rugby Union commitees for a number of years. He was at least half a century ahead of the game when he used the unusual approach of chalking his teams tactics on a blackboard. As a school teacher at Alderman Davies School he guided his team, the Neath Ex-Schoolboys XV to four invincible seasons between 1922 & 1926. So successful was this team that they drew crowds of 4000 + when they played on the local Cwrt Herbert playing fields. A fine all-round sportsman Albert Freethy also played for Glamorgan at cricket.

CLICK HERE FOR MORE INFORMATION ON ALBERT FREETHY
Excerpt from the Neath v Rees Stephens International XV programme 26th September 1957

No.1 Man in the Neath Rugby Club this season is a man who practically lives for sport, and indeed, who can claim to have a son (Ron) who has been " capped " at both Rugby and Soccer. Bill Millett is now the chairman of the club for which he played on the wing in 1918-19-20, and with which he has been closely associated ever since - including the past 10 years as committee-man. He also played for Swansea and Briton Ferry. With his playing days over, Bill Millett was secretary of Briton Ferry R.F.C. for about ten years, and later on he did similar work Briton Ferry Town Cricket Club for the same period of time. He has always maintained an almost passionate interest in boy's club's and has done much good work for them. He is at present the chairman of the Sports Committee of the Welsh association of Boys' Club. On top of all that, he finds time to sit on the executive committee of the Welsh Youth Rugby Union. With such a background of administrative experience, he is bound to be an asset to Neath R.F.C. during his year of office.

The Neath cap of Bill Millett 1920-1

(WRM-0183)
The caps of Fred David, Neath 1902-3, and Glamorgan County 1906/7

David was a regular in the Neath side for over a decade and also appeared for Neath Excelsiors. He captained Neath against the 1912 Springboks. On the left is his Neath cap while the cap on the right is his Glamorgan cap. (WRM-0184/0186)
Walter Rees 'The Grand Old Man of Welsh Rugby

Capt Walter E Rees ran the Welsh Rugby Union from his front room in a Neath Town Centre house for over 50 years, He has been the longest serving secretary of the Welsh Rugby Union. Prior to this he was secretary of Neath Rugby Club. In 1910 he was the assistant manager of the British team's tour of South Africa. His strength of character was legendary and together with Sir John Llewellyn (WRU President 1885-1906) also of Neath, he guided Wales through their first golden era in the early years of the 20th century.

CLICK HERE TO LEARN MORE ABOUT THE LIFE AND TIMES OF WALTER E REES
| | |
| --- | --- |
| | Yet another great administrator from Neath was Eric Evans, primarily responsible for founding the Welsh Secondary Schools Rugby Union, he took over from Walter Rees as secretary of the Welsh Rugby Union in 1948. A post which he held until shortly before his death in 1955. |
An excerpt from " FIELDS OF PRAISE " the official Welsh Rugby Union history by David Smith & Gareth Williams..................
"By then a generation of schoolmaster coaches had arisen to sustain the moment generated by the founding of the W.S.S.R.U. Eric Evans (1894-1955) had gone from to Neath to Cambridge just before the War. After serving in Gallipoli he had returned to the University, where he narrowly missed a blue and played for Neath during vacations. After graduating in 1922, he became English master and rugby coach at Cardiff H.S. As founder secretary of the W.S.S.R.U. from 1923 to his appointment as successor to Walter Rees as secretary of the W.R.U. in 1948, he saw the number of schools in the union rise from 13 to 91. At Cardiff he constructed and set in motion a conveyor belt of schoolboy internationals of whom the brothers John and Bill Roberts and the Bowcott were the first to emerge. Another stream of schoolboy talent was to flow from Llandovery College , where sports master D.R. Williams was in 1927 Joined by his brother T.P. At Brecon was W.A.G. Howell; at Gowerton W.E. Bowen was about to transform the rugby initiative of the school which had recently produced Rowe Harding into a notable tradition."
REES STEPHENS

For longevity Rees Stephens can hardly be matched in the post-second world war era. making his debut for Wales during 1945/6 in a victory international against France at the age of 23, he played his last game for Wales in Paris in 1957 just a few days short of his 35th birthday! Indeed he was still playing the odd first-class game at 40. At the time he left the international scene he was the most capped Welsh forward - his nearest rival being George Travers, who retired in 1911.

One of the few sons of a Welsh international to play for Wales himself, Rees Stephens had a lot to follow. His father, Glyn, had played for Wales in 1912 and 1913 before reappearing against the N.Z. Army XV of 1919. Glyn Stephens also became President of the Welsh Rugby Union. Rees was born in Neath in 1922 and very soon showed his prowess on the Rugby field by being capped for the Welsh schools at under 14 level. Big for a young lad he then went on to Llandovery school where he won a further Welsh secondary Schools' honours. Working in his father's mines during the war Rees played as much scratch Rugby as he could. When war ended he soon made his mark in senior rugby............ READ MORE
BRIAN THOMAS - info to follow at a later date - if you feel you can contribute info about Brian Thomas to Neath Rugby Town please email us - CLICK HERE TO EMAIL NEATH RUGBY TOWN
MIKE THOMAS

MIKE THOMAS

NEATH PLAYER, COACH, TEAM SECRETARY & FORMER PLAYERS SECRETARY

A member of the 1972 Cup Final winning team Mike was a favourite at the Gnoll in the early 1970s. Together with Dai Morris & Wilson Lauder he formed one of, if not the finest back row that the club has ever seen. Not a lot of people realise however that Mike played far more games for Swansea than Neath and that he scored the winning try when he captained Swansea to victory over Ken Catchpole's 1966 Wallabies. So what colour is his heart ? Is it black or white ?

CLICK HERE FOR N INTERVIEW WITH MIKE THOMAS
RON WALDRON - info to follow at a later date - if you feel you can contribute info about Ron Waldron to Neath Rugby Town please email us - CLICK HERE TO EMAIL NEATH RUGBY TOWN
LYN JONES, PLAYER & COACH, A NEATH RFC LEGEND.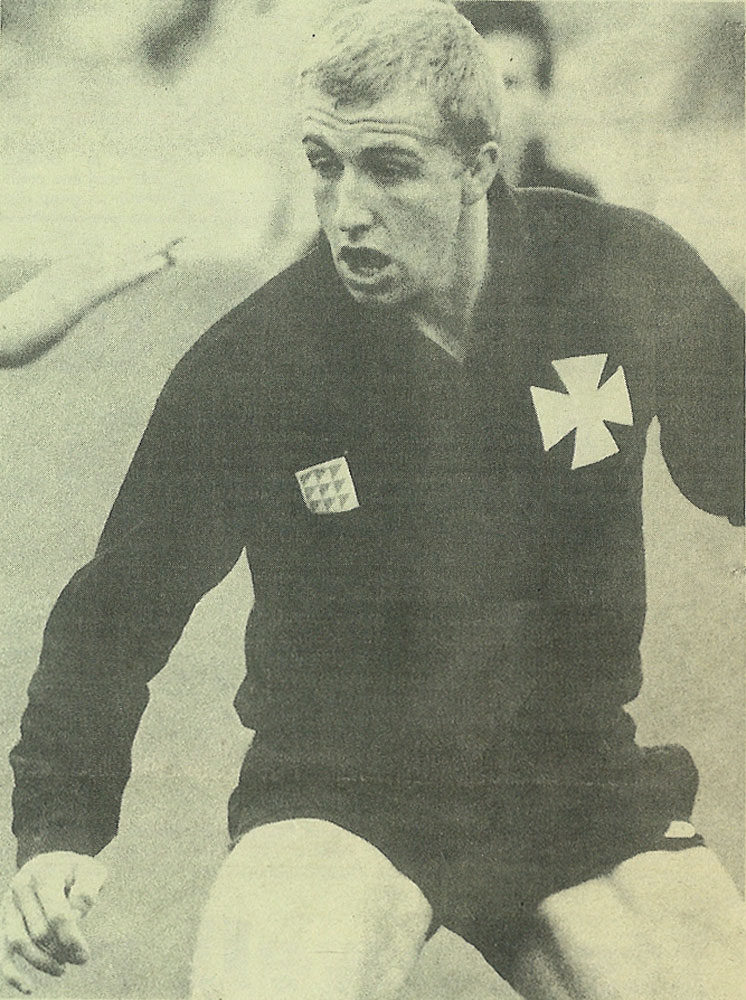 Lyn Jones was one of Neath rugby's great characters, 'Lyn the grin' as he was affectionately known hailed from Cwmafan and played several seasons at the Gnoll before moving to Stradey Park, and onto the Treorchy Zebras. He came back to Neath as a coach to see Neath lift the Heineken National League title in his first season. After several successful years at the Gnoll Lyn was appointed the first coach of the Ospreys as Welsh rugby went regional.
We have in the museum a Neath RFC match worn jersey with the James Scott sponsors logo to the right breast - this jersey was worn in the late 1980s, (so far we have identified the following seasons in which this jersey was worn 1987-8, 1988-9) . Lyn blieves he wore this jersey in the World record points season 1988-9. The jersey is a No 6 by cup tie, size 42/44". Although Lyn played more often as a No7 we have identified some occasions that he appeared in a No 6 shirt including against Ebbw Vale in the 1988/9 season. Accompanying the jersey is a presentation plaque from the club to celebrate the achievement.
FOR MORE INFORMATION ON LYN JONES AND TO VIEW ITEMS FOR SALE FROM THE LYN JONES COLLECTION AT www.rugbyrelics.com PLEASE.....
ROWLAND PHILLIPS - info to follow at a later date - if you feel you can contribute info about Rowland Phillips to Neath Rugby Town please email us - CLICK HERE TO EMAIL NEATH RUGBY TOWN
HAYDN FORD

Local artist Haydn Ford has caricatures adorning the walls of nearly every rugby club in the area. Working from his studio in Alistair St (just off Windsor Rd) Haydn worked to commissions and also published his art as collections in book form. - CLICK HERE FOR MORE ON HAYDN

(illustrated left Keith Maddocks)
SUGGESTIONS - if there is a rugby personality from the town of Neath that you would like to see featured on this website please email us with your suggestions.