EXHIBITION HOME - World Rugby Museum Home - Rugby in the town of Neath - RUGBY RELICS HOME
Case 01
The origin of Rugby Football it's spread to Wales and the formation of the Welsh Football Union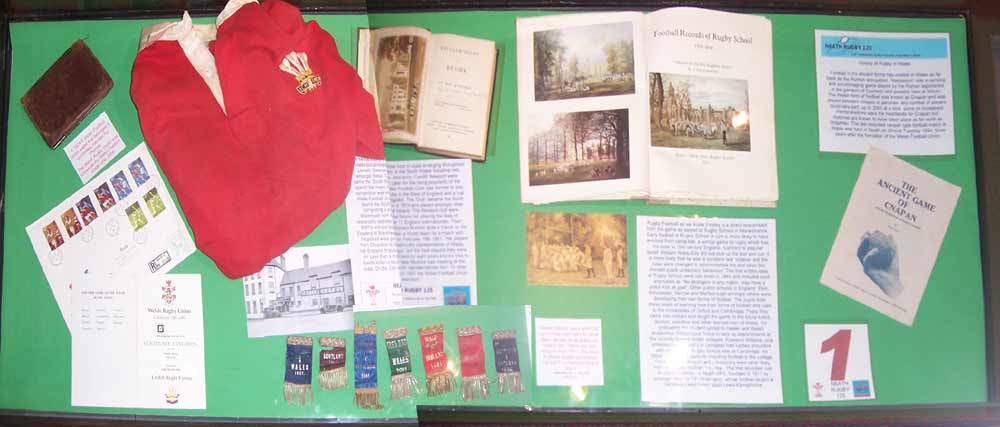 Football in it's ancient forms has existed as far back as the Roman occupation. 'Harpastum' was a carrying and scrummaging game played by the Roman legionaries in the garrison of Caerleon and possibly here at Nidum (the Roman name for Neath). The Welsh form of football was known as Cnapan and was played between villages or parishes, any number of players could take part, up to 2000 at a time, some on horseback. Pembrokeshire were the heartlands for Cnapan but matches are known to have taken place as far north as Dolgellau. The last recorded Cnapan type football match in Wales was here in Neath on Shrove Tuesday 1884, three years after the formation of the Welsh Football Union.

"The Ancient Game of Cnapan" a book by Brian John and article by the Rev Llewellyn Lewis, circa 1930s (WRM-0038)

Development of Rugby Football and it's spread to Wales

Rugby Football as we know it today is a direct descendant from the game as played at Rugby School in Warwickshire. Early football at Rugby School in turn is more likely to have evolved from camp-ball, a similar game to rugby which has it's roots in 15th century England. Contrary to popular belief, William Webb-Ellis did not pick up the ball and run, it is more likely that he was a constant 'law' breaker and the rules were changed to accommodate his and other like minded pupils unsavoury behaviour. The first written laws at Rugby School were laid down in 1845 and included such anomalies as "No strangers in any match, may have a place kick at goal". Other public schools in England: Eton, Winchester, Harrow and Marlborough amongst others were developing their own forms of football. The pupils from these seats of learning took their forms of football and rules to the Universities of Oxford and Cambridge. There they came into contact and taught the game to the future tutors, doctors, solicitors and other learned men of Wales. On graduating the student turned to master and Welsh academics trickled back home to take up appointments at the recently formed Welsh colleges. Rowland Williams, vice president of St David's in Lampeter had rubbed shoulders with many of the Rugby School elite at Cambridge. He introduced athletic pursuits including football to the college. Christ College, Brecon and Llandovery were other likely homes to rugby football in Wales. The first recorded club in Wales however, is Neath RFC, founded in 1871 by amongst other Dr TP Whittington, whose brother taught at Llandovery and former pupil Lewis Kempthorne.

"Football Records at Rugby School" (WRM-0228)

"Recollections of Rugby" by Old Rugbean published in 1848 (WRM-0229)

The formation of the Welsh Football Union

The 1870s saw a whole host of clubs emerging throughout Wales but principally in the South Wales industrial belt, Llanelli, Swansea, Neath, Aberavon, Cardiff, Newport were amongst these. To cater for the rising popularity of the game the 'South Wales Football Club' was formed to play against the major clubs in the West of England and a cup competition was instigated. The 'Club' suffix was exchanged for 'Union' in 1878 as the developing union played amongst other teams the South of Ireland. The Newport club were completing a similar fixture list, playing the likes of Blackheath with their 11 England internationals. Their resourceful secretary Richard Mullock stole a march on the SWFU and put together a Welsh team for a match with England at Blackheath on February 19th 1881. The players he picked were geographically representative of Wales, from Chepstow to Bangor, but the best players they were not. England thrashed Wales by eight goals and six tries to nil. Less than a month later Mullock was meeting at the Castle Hotel in Neath with representatives from 10 other clubs. On the 12th March 1881 the Welsh Football Union was born.
| | |
| --- | --- |
| | A 1924-5 Welsh Football Union wallet that belonged to committee member Ifor Thomas, East District. The wallet carries an inscription "Admit to all matches under the jurisdiction of the Welsh Football Union. The Welsh Rugby Union was known as the Welsh Football Union until 1934. (WRM-0285) |
GO FORWARD TO NEXT CASE - CLICK HERE
... ...
EXHIBITION HOME - World Rugby Museum Home - Rugby in the town of Neath - RUGBY RELICS HOME