It began at the side of a railway track, close to my home in Tonna, near Neath in the late fifties. My father and I, on a morning walk, had come across a book, lying in the undergrowth on a disused line which once ran through the picturesque Dulais Valley . Not just any book, but a huge, beautifully illustrated leather bound volume, a first edition no less of Ancient Ballad Poetry.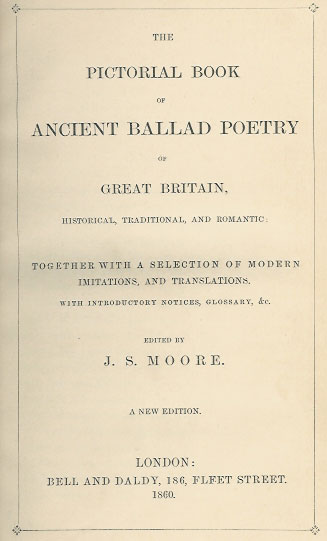 Embossed on its cover, in gold, was the crest of a school, not just any school, but Rugby School, one of the most famous and prestigious schools in all of England.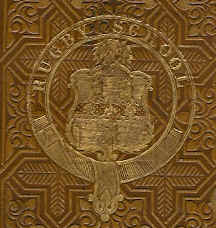 Written on the fly-leaf, in what appeared to be a classical hand, were the words Rhys Powell Morgan-Christmas 1860.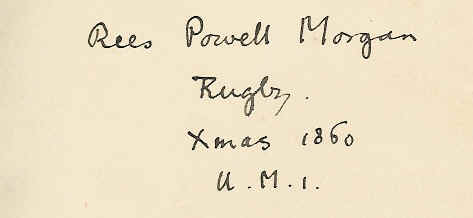 We dusted it, polished it, and cherished it. I couldn't have imagined it then, but poetry was to become a source of enjoyment and fulfilment in my own life, in particular that of the late R.S.Thomas, whom I met just once, and who remains the man whose work I most admire. In the bookcase at home the book remained, in quiet repose for almost thirty years, until the opportunity to seek its history was presented.

My eldest son, much to his chagrin was sent to public school, (his brother had successfully resisted the offer). I had somehow managed to bring them up alone, aided by my father, whose earthy practicalities contrasted with the more aesthetic virtues of my late mother. Unhappy at boarding school and homesick at first, my son had nonetheless eventually settled happily into the somewhat insular world which was now his, and there was, as ever, rugby to be played.

As a child he had watched Neath, with me of course, and was later to win representative honours in athletics and rugby, playing full-back for the Welsh Public Schools against

England .

In the rarefied atmosphere of public school rugby I was an unlikely parent, and because of my dishevelled appearance and lapses into swearing, I had been gently advised to steer a course well away from the more well to do among the assembled throng. "That's Rupert Digby Penfold's dad just there, he's on the board at Lloyds, with Henry's aunt Lucinda, a circuit judge in

Kent ". Consequently, at the games I became a shadowy, peripheral figure, not least from his own team-mates, who, on hearing me shout the odd obscenity would tease him mercilessly at evening prep.

I settled into a rhythm, attending all the games in which he played, at all the famous public schools throughout the land, until eventually, the final fixture loomed. It was to be an away game, and it was to be against

Rugby school.

It was the chance for me to take the book from its resting place at home, and seek its history from whence it came. The game was to be his and the teams last, before dispersing, and moving, as it were, into a man's world, and of all the places where it could have ended, it would end where rugby began.

I decided to stay overnight, and took a room near the school. I explored all of the places for which

Rugby School is famous, I visited the statue of Rupert Brooke and the chapel immortalised by Matthew Arnold. As a preparation I had re-read Tom Browns Schooldays, the classic tale of life at Rugby , and the evil deeds of Flashman.

Outside the school is the statue commemorating William Webb-Ellis who, "with a fine disregard for the rules, picked up the ball and ran with it". Thus was rugby born, on that field, at that school, at that place, all those years ago.

Of all the famous seats of learning that I had visited, it was

Rugby , with its history, its charm, and its traditions that was the most beautiful.

I took the book into the library and was met by a kindly, studious, elderly and bespectacled man, in a faded tweed jacket with leather patches sown onto each elbow. He was of course, the archivist.

We discovered that the book had been presented to Rhys Powell Morgan as a prize for latin in 1860, by the headmaster at the time, who was later to become Archbishop of Canterbury. A census some years later revealed that Rhys Powell Morgan had become a solicitor in Neath.

Not that it mattered, but the match was won, a full-blooded affair that was in the best traditions of the sport. The symbolism of the moment was largely lost on my son, but for me there was a poignancy in seeing that last encounter unfold. They weren't men quite yet. Drinking, smoking and sex had probably entered their lives already, but they weren't men yet, and it was possible then, to feel, to perceive, in the simplistic honesty of those last admirable endeavours, just the remnants of innocence.

After this it would be university, and, well, yes, more drinking, smoking, and sex, but that was for another day. My son had enjoyed public school and was sorry to be moving on. In those years he had made his friends for life, and even I had made a mark, presenting a prize which is now awarded annually.

As for the book of Ancient Ballad Poetry - when I came home I returned it to the bookcase, where it has been ever since.

Should there be a descendant of Rhys Powell Morgan, a scholar of latin who was at

Rugby school in 1860, and was presented by a future Archbishop of Canterbury, with a classically beautiful book, which was thrown into a railway ditch near Neath a hundred years later, they can get in touch. Until then it will be at home with me in Tonna.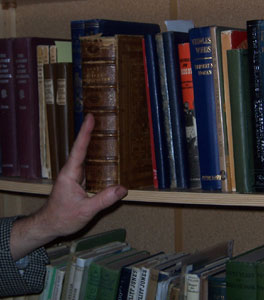 Perhaps, but only perhaps, where it belongs.