Celtic Tri training camp
26 May - 4 June 2006
The way it was - by Coach Dai, pictures by Clive Crow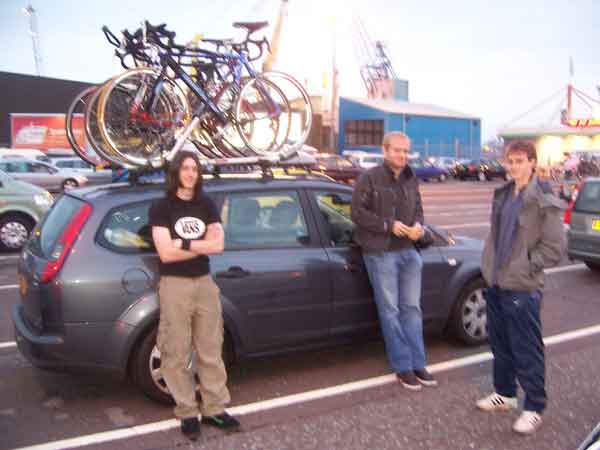 Thursday - 25/5/06 - 4 Guys, 4 bikes, 1 car, 1 shaky camera, bikes on the roof, guys in the car, point the car towards Portsmouth and we're off. 3 hours later, we are sitting pretty in the front of the queue ready to board the ferry, pull to one side says the ferry loading man, you're too tall to be in the front (I want to be a ferry loading man when I grow up, meeting interesting people day in day out, stars from Corrie and Eastenders waving gracefully back as I wave them on, I want to be a ferry loader when I grow up), an hour later everyone else has boarded and we are squeezed on at the back with the juggernauts. Phew !
*************************
Friday 26/5/06 - Good news, got 3 - 4 hours kip in on the boat, likewise everyone else, so rested and refreshed we make the 8 hour drive to LPDR. A good effort by Stuart who has to hand over the driving after 6 hours at the wheel. The honour of bringing us home to LPDR falls upon my shoulders and at 4 o'clock we roll in and are welcomed by the Baines Bunch. A quick shower and change and it's time to get some training done, no mucking about here, we are men on a mission. A 30 minute, mostly downhill cycle to the swimming lake reveals a superb facility, a lake with a 200 metre stretch of open water, a diving platform for pontoon starts and turns around, excellent stuff. We're in for an awesome week.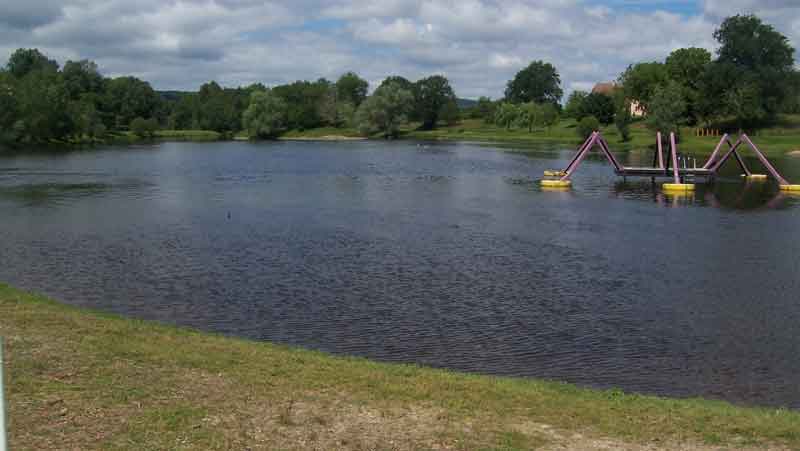 We're all impressed and looking forward to the morning dip and shaking hands with the lake spider......... ooohhhhh he's scary. Heading up the Dordogne Valley reveals a flattish stretch of road. Then it's the hills...................................................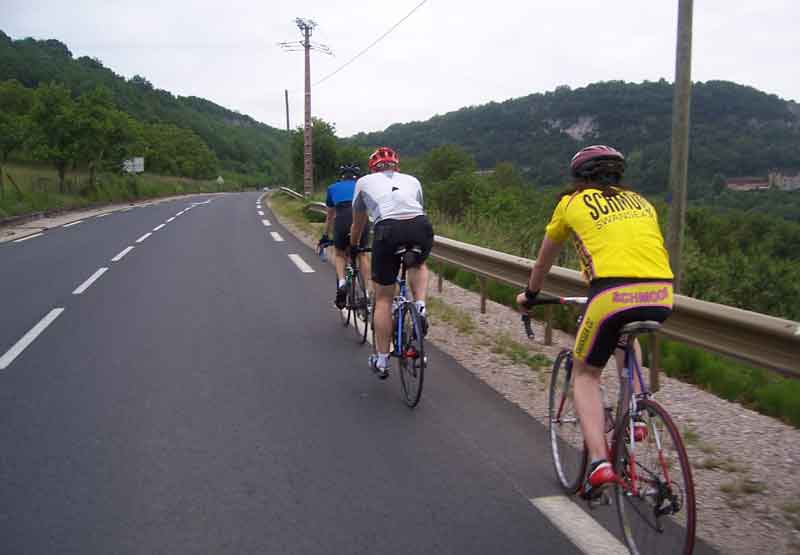 .......................................a quick glance to the right and I can see hard man Huw is smiling himself as he relishes a week on the hills in preparation for the Austrian Ironman in 7 weeks. We head back to LPDR for supper and bed. Lush ! Total mileage Bike - 30.
*************************
Saturday 27/5/06 - After all that travelling sleep was the number one priority and a lay in was called for but by 10 o'clock we'd all surfaced ready for the off. Breakfast on the terrace was awesome and the sun had already warmed up the air to the low 20s. Love it ! The order of the day was a swim, to find a suitable bike loop for tomorrow, familiarisation with the area and a bit of tourism. At this point resident triathlete Teri Baines and her dog Kirk joined our group so now we're up to six. I was a little concerned that Kirk's bike handling skills were not up to scratch, he pleaded with us to join in but we couldn't find a helmet to fit or any shoes to fit him. Kirk was insistent that he should join our group and he sat on his bike and would not budge until we left with him. I really thought this was the end of the trip but fortunately a bowl full of Winalot laced with brandy soon sent him off to sleep and we carried him indoors out of harm's way. We were down to five and we rolled out on our first full day at LPDR....................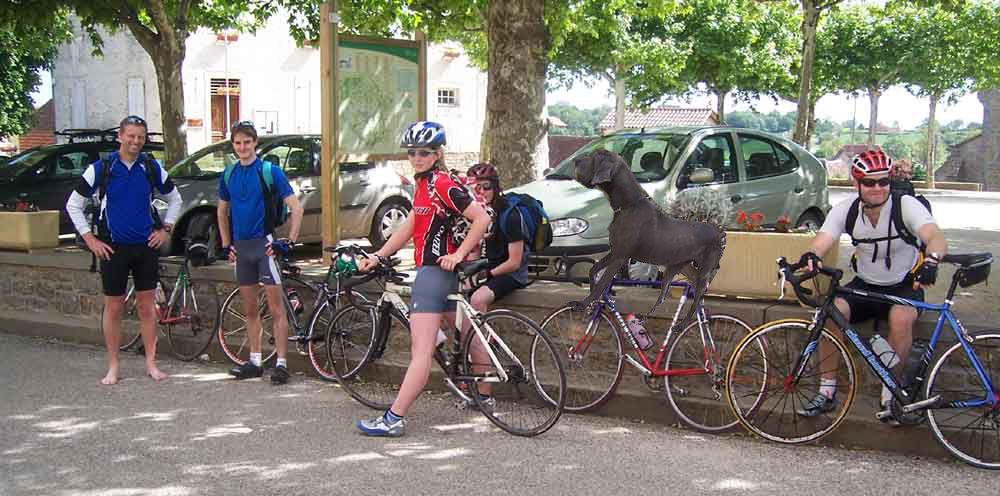 .........................The big plus of LPDR is that it's at the top of a hill so that when you start warming up it's downhill and easy. We make the lake in good time and once the wetsuits are on we're ready for the off....................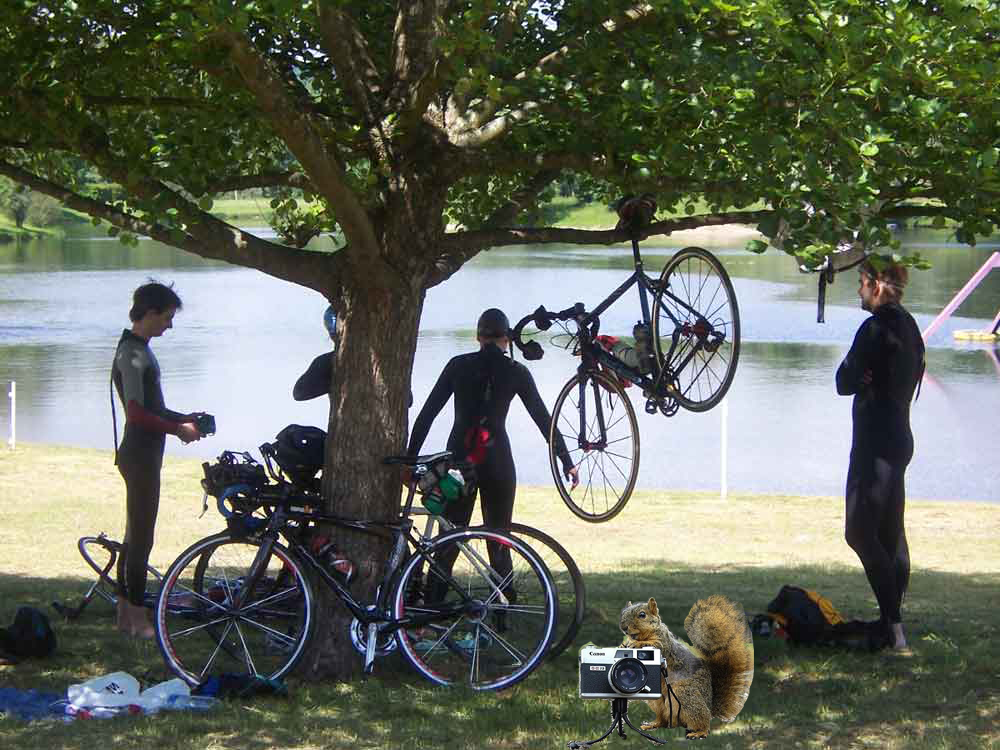 a quick change at the transition tree and we nabbed a local squirrel photographer to take a picture. Luckily we had Teri with us to converse with Monsoir Nutkins who was intent on haggling for every nut we had. In the end we had no choice but to hand over our complete stock of nuts including a 200 gram bar of Cadbury's Whole Nut. If ever you go to France they don't have a great selection of milk chocolate there. Take some Cadburys with you, it will help to smooth the way with any ex-pats you should meet.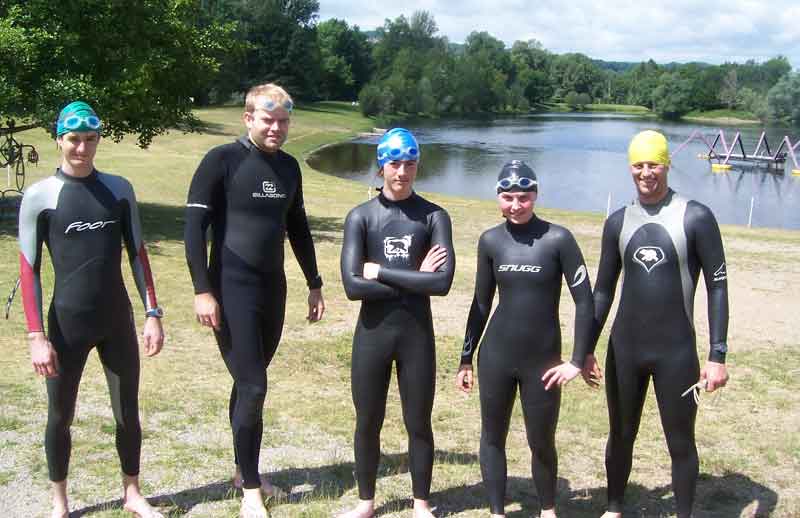 A quick line up for Monsoir Nutkins, then in we went, one drawback is that the lake was a bit parky and it did take a short while (approx 6 - 7 ice cream heads) to warm up but 30 minutes later we'd all enjoyed a good session working on open water technique and skill...........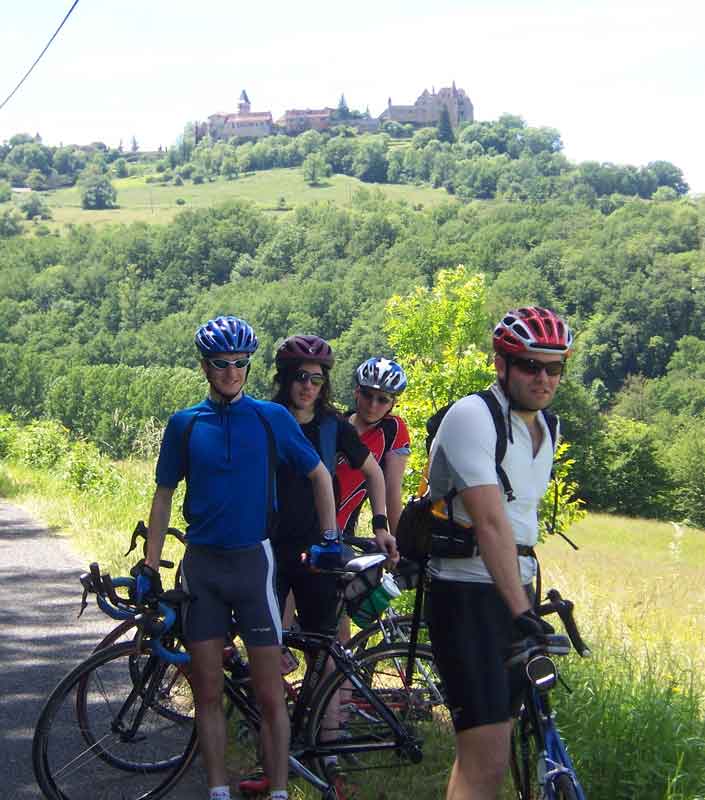 Once out of the lake and back onto the flattish road that runs up the Dordogne Valley As we are on an unofficial bike day the emphasis is on getting from place to place at a leisurely pace, but all thoughts of leisurely pace go out of the window as we go in search of some hills to put into tomorrow's ride, we turn an immediate right that goes up and up. Five minutes later and we're still climbing, a quick glance to the right and I can see that Huw is smiling to himself, again, he likes it and he's already pencilled this hill into tomorrows route. We call it Alan's Hill, why Alan's Hill I hear you ask ? When we got to LPDR, the management (Peter & Carol) kept calling Huw 'Alan', so we adopted the name for Huw for a while. I wanted to call it 'Huw's Horrible Hill but the choice was left to Alan, sorry Huw ! Long story that wasn't it ! The place at the top of the hill (in the above photo) was a village called Loubressac, very picturesque, we had to travel through it before descending to the Dordogne Valley floor.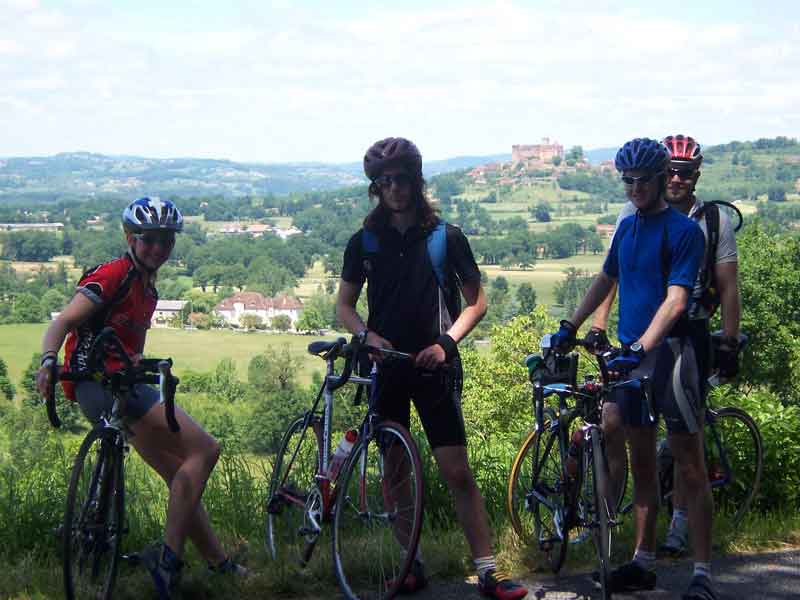 Before going any further, let explain tomorrows format. A two hour loop, Huw does it three times each time with a different partner so we all get to do two hours each and Huw gets his six hour ride in, lucky bast***. The ride continues, the roads are quiet, the sun is shining, superb scenery, castles, chateaus, awesome stuff ! An hour later we are 10 minutes too late for lunch in a roadside cafe bummer ! so it's a sandwich and biscuits from the shop next door.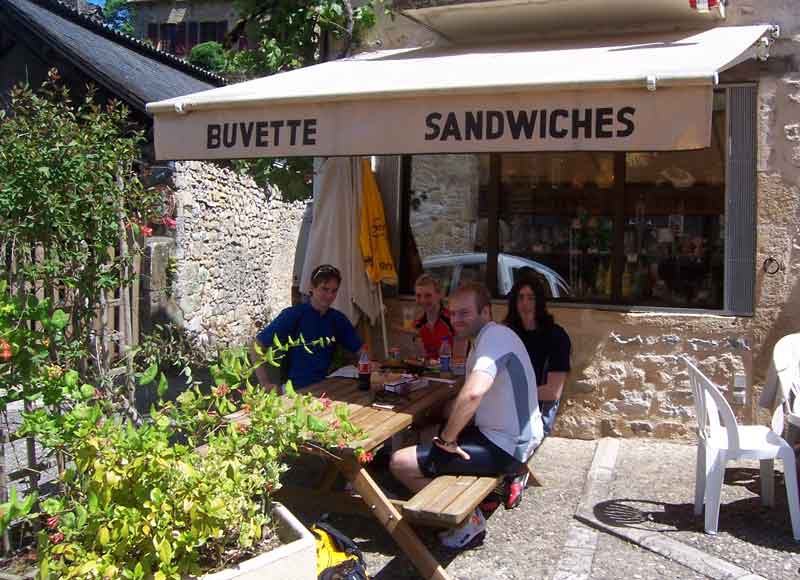 Back on the bikes and up another hill , a quick glance to the right and I can see Huw is smiling again, he likes it. It's tourists heads on as we make our way to Rocamadour, an amazing cathedral built into a cliff with a chateau on top of it, you have to see it ! to believe it ! Another photocall followed by the trip back to Miers. The big minus of LPDR is that it's at the top of a hill so that when you head back home it's up, up up ! Total mileage - Swim 1200 mts, Bike 41 mile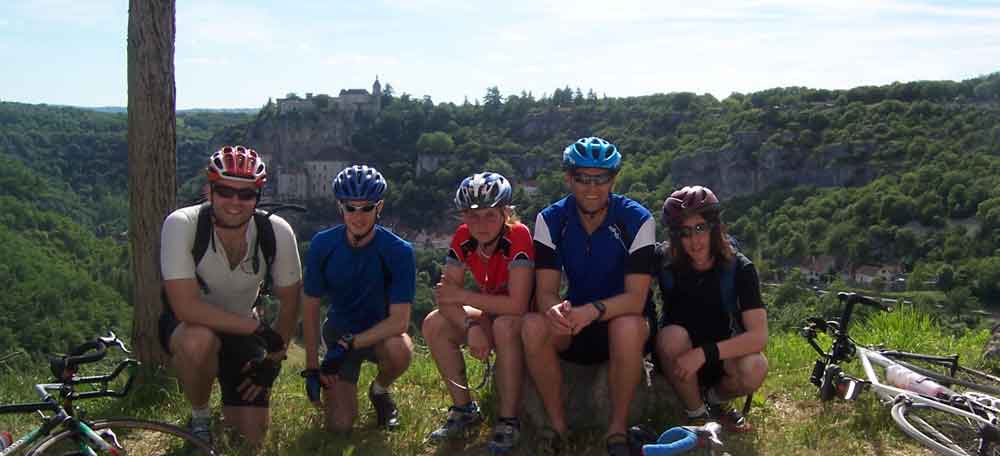 This is us with Rocamadour in the background
*************************
Sunday 28/5/06 - It's loop day and at 8.00 sharp Huw and I roll out on Huw's first loop, 2 hours later Teri & Dale roll out on Huw's second loop. 2 hours later..........................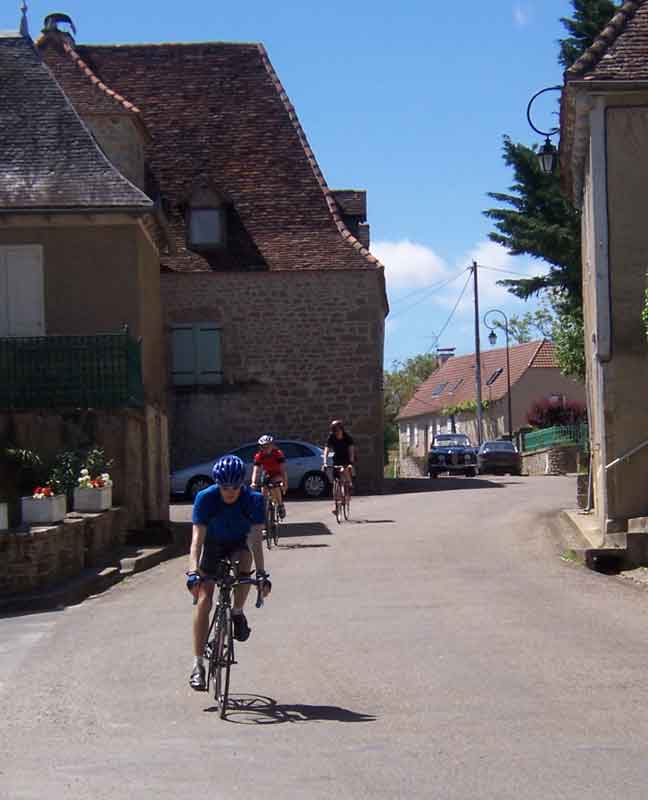 .............................Stuart joins Huw for the final loop and the crowd gather to welcome them home, pom poms and all........................
After six hours in the saddle, 84 miles with loads of climbing Huw legs it around the block to get those legs in shape for running off the bike. Many Zzzzz's pass under the bridge before the guys head off to Rocamadour in the car for a closer look at the rock ! Total mileage Bike - Huw 84 miles, everyone else 28 miles Run - Huw & Dai 1mile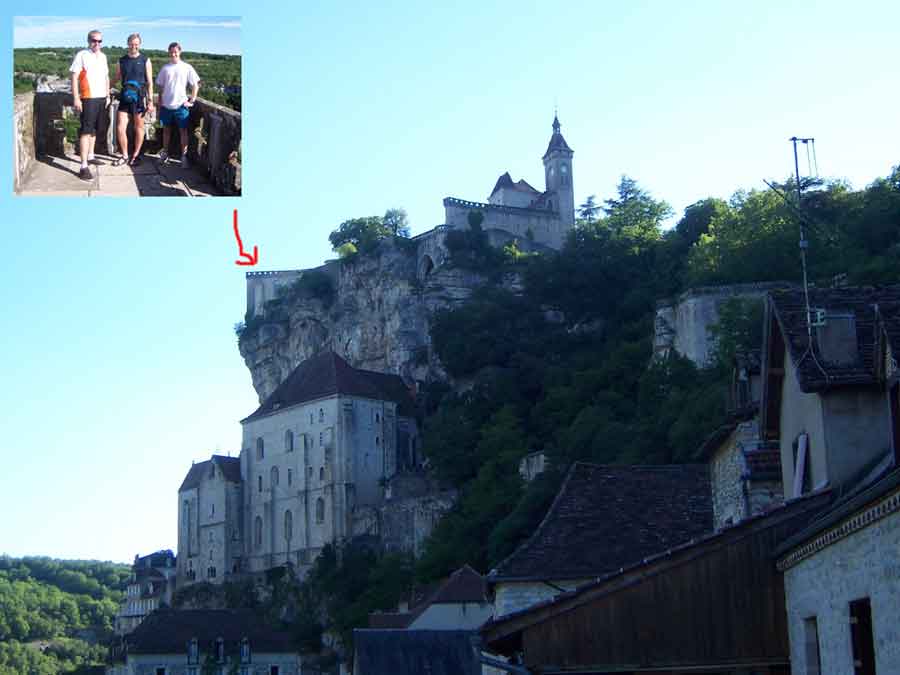 *************************
Monday 29/5/06 - We originally intended to do bike/swim transitions this morning but after Saturday's unplanned 41 miles on the bike it was felt that a day off the bike was in order. We switched to the long run in the morning and swim in the evening. Out came the Ordnance Survey map and 8.00 am we set out on a short loop of 40 - 45 minutes for Teri & Dale. Stu and Huw hadn't seen the Source Thermale, one of those spa lake thingyameebobs so that was our first port of call. After the Source we travelled along farm tracks for a while then we hit THE HILL. There is quite a descent from LPDR to the lake so we knew there would be a fair bit of climbing on the way back, and when we hit the climb it was Steep with a capital 'S'. We arrived back at the hotel to drop the youngsters off then off we went on loop two. More farm tracks but this time with stone age burial chambers dotted around the place to keep the troops entertained. That evening's swim session was aimed at sighting and sitting on feet, of course if you sit on someone's feet and they go the wrong way then you go too ! so sighting is still important even though you are having a tow..................................................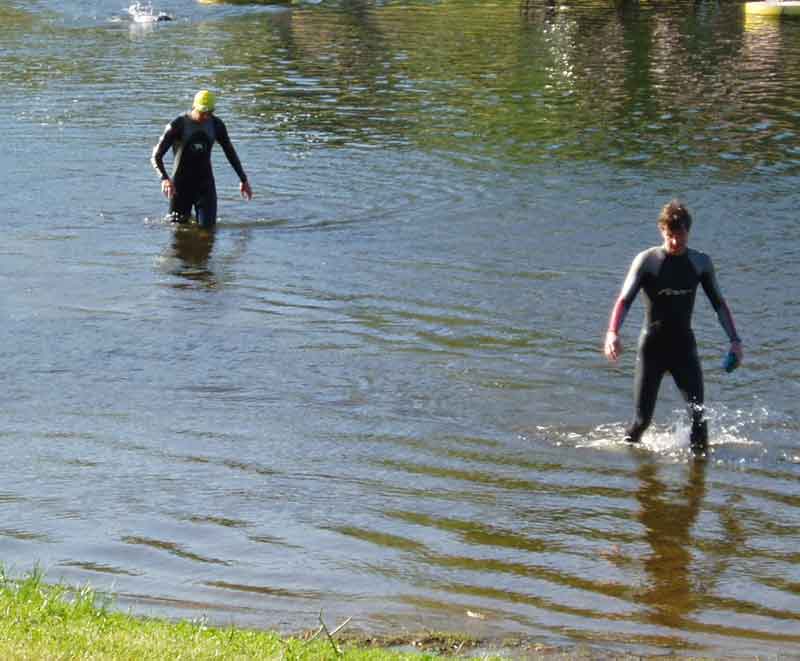 Huw & I stayed in for a little extra. Total mileage - Run - Teri & Dale 5 miles, Huw, Stu & Dai 13 miles. Swim - Teri, Dale & Stu 1200mts, Dai & Huw 2000 mts
*************************
Tuesday 30/5/06 - Tuesday was Transition day and thankfully after two early starts to miss the mid-morning heat a well earned lie-in took place. The morning consisted of cycle to the lake with swim/cycle transition work on the way (putting feet in shoes on bike). The swim took in starts and turns with a swim to cycle transition on immediately exiting the lake..............................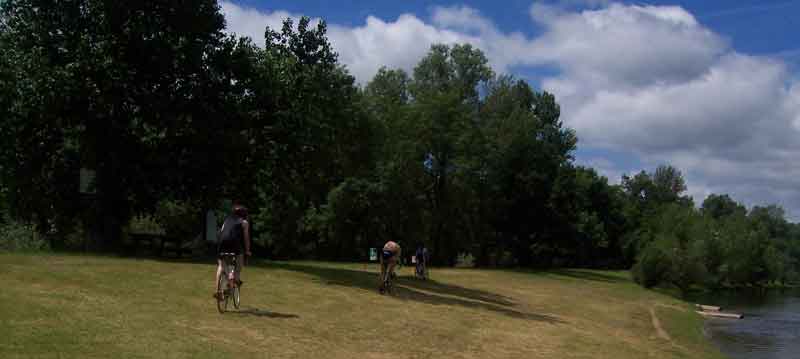 Time to chill ! We spent an hour relaxing at lakeside enjoying the sun the after the cycle, then it was back to LPDR where we were rewarded with lunch on the terrace. For the evening session we utilised the football stadium at Miers, although the village has a population of around only 300 the football stadium would be the envy of many Welsh League clubs and as it is off-season we were allowed to use it. I prefer to use a grassy area for bike/run transition training just in case someone hits the deck but thankfully the deck remained a triathlete free area for this session. Once transition training was completed we put it into practice with 3 run-bike-run bricks of 200 mts/2k/300mts with Teri & Dale running 100mts on the last leg for the first two and myself, Huw & Stu running the 2k bike loop on the last one. Before we go any further, two words about the food and hospitality at LPDR. .................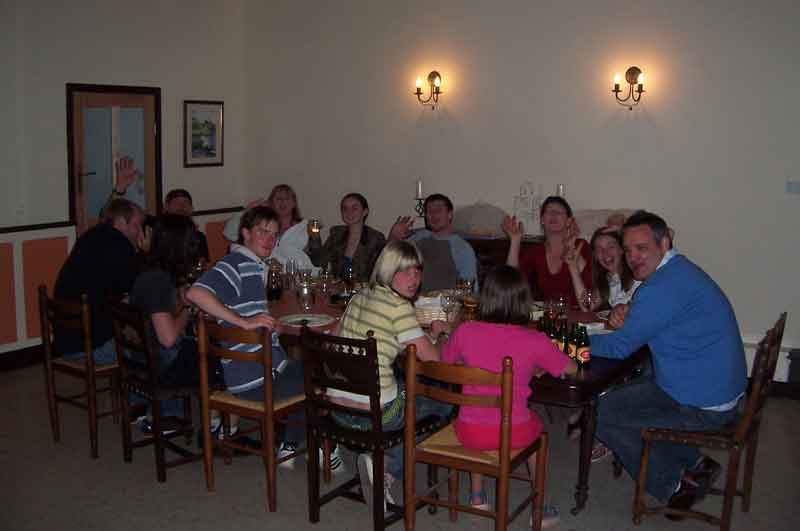 IT'S AWESOME !
*************************
Wednesday 31/5/06 - Time to put it all together it's sprint triathlon day, but first, get on the bikes and cycle the 8 miles to the lake. Again we split groups and distances, (us old timers don't want to be shown up by the youngsters). The youngsters doing 200 swim, 2k bike, 800 mts run, the fogeys, (and here I'm counting 24 year old Huw a fogey, sorry Huw !) swim an extra 400. Job done it was time to chill at the lake again and after the return cycle leg and lunch it was off to some of the local villages for sightseeing !
*************************
Thursday 1/6/06 - Pinch, Punch, first of the month. The first of two relatively easy days leading up to Saturdays 'longer' triathlon. Mid morning we rolled out for an easy 3 hour bike taking in Rocamadour twice and Gramat. The two photos below represent the descent into and the ascent out of Rocamadour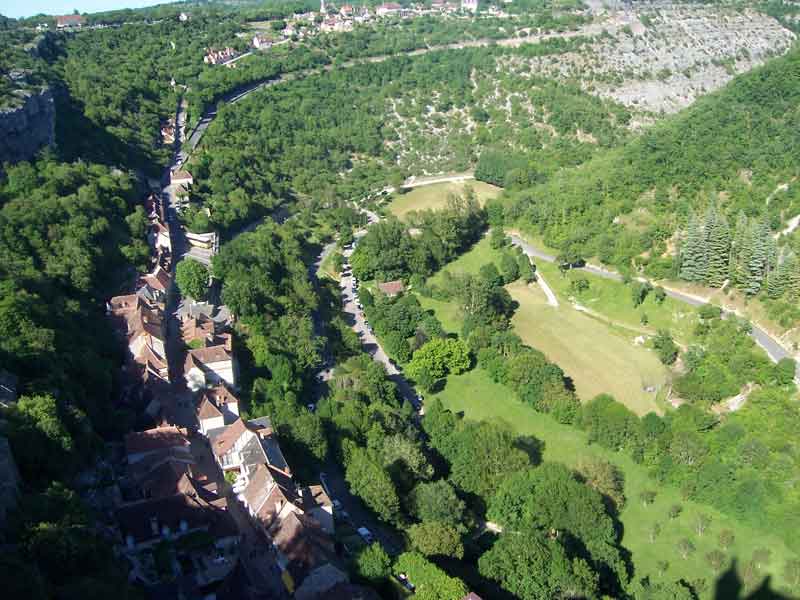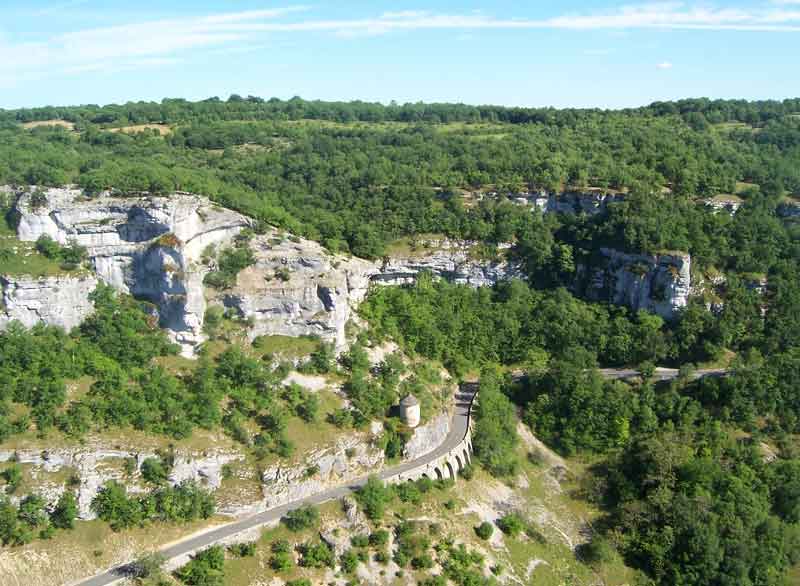 Gramat is the nearest town to Miers. For the evening swim we drove to the lake for a 1200 mts session, again not too taxing.
*************************
Friday 3/6/06 - We drove down to the lake for a 45 minute run on the flat, part of which run alongside the River Dordogne, this was followed by core strength exercises. The afternoon was spent in the town of Brive, famous for it's rugby team (European Cup Winners in 1997 and finalists in 1998). The team is also famous for it's nastiness, when they played Pontypridd in the European Cup in the late 1990s the match was termed "The Battle of Brive". When Neath played them in 1990, the Neath team walked off the pitch at half time never to return, and that was only a friendly. We spent an hour sitting in the sun at a roadside cafe avoiding anyone that looked like a rugby player. Total mileage Run 6 miles
*************************
Saturday 4/6/06 - It's 'long tri' day. Ouch ! say those of use who haven't done a great deal over the last couple of years. But filling the pockets with bars, bottles and bananas again, it was just like old times. It's back to the early start time of 8.00am for the cycle to the lake. Huw and I were first off swimming a 10 lengths 200 metre course, Teri and Dale were to join in on the last 2 lengths but true to form they miscount and join in at six. The penalty as we all know for miscounting laps is doing extra so they ended up doing 4 lengths (800) metres instead of 2 (400). That'll teach them. Out of the lake and after a relaxed transition..................................................................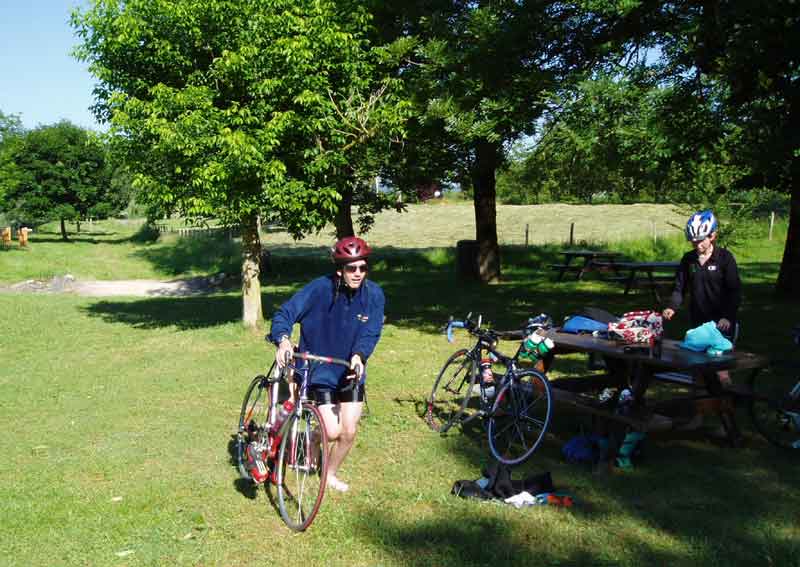 ............................................... we mounted the bikes and headed back to Miers. This was where Dale & Teri were to drop off and run while myself and Huw continued onwards. Four and a half hours, several bars, bananas and bottles later Huw and I roll back into Miers for the run. A much sharper transition saw me hobbling down the road doing cowboy impressions, as if I'd just been riding a horse, Huw was floating effortlessly over the ground next to me, I don't need that ! Towards the end of the run I waved him goodbye, but the bugger kept coming back for me and wouldn't leave me alone. Finally we got back to LPDR and Huw had the cheek to put in another 30 minutes on the run. Personally I couldn't have played tiddlywinks, it was time for Bed with a capital B.................................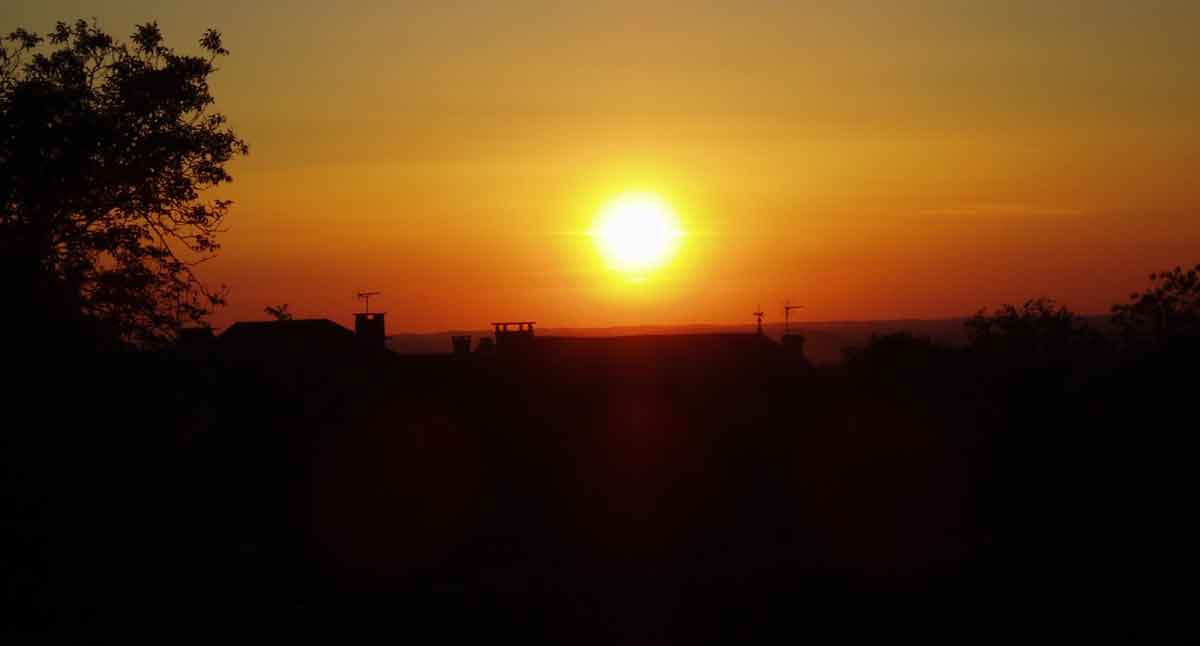 .............................. As the sun sets over this sleepy village, normality returns, the lycra clad athletes tuck themselves into another beer, (you thought I was going say bed then didn't you) there were many positives, lots of personal achievements, bags of confidence has been gained and a good week was had by all on the first ever Celtic Tri training week !
Sunday 5/6/06 - Another long day, this time in the car, we pile into Stuart's trusty wagon for the last leg home, arriving home at 1am on Monday morning. Awesome, what a week.
A big thank you to all at LPDR for making it a wonderful week. and to Stu, Huw, Teri & Dale for making a coaches life easy by doing the business.
Have a good one - Dai Richards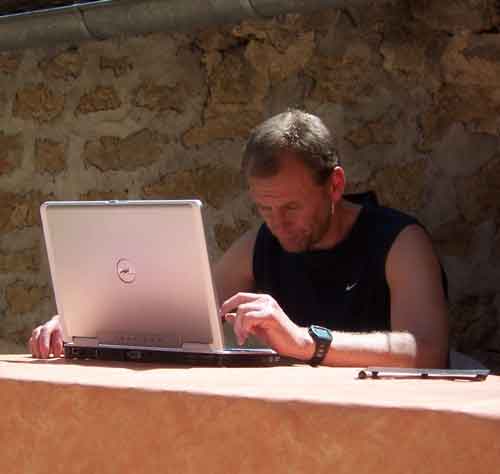 *************************************************************
Le Petit Dragon Rouge
Miers, Lot Region, France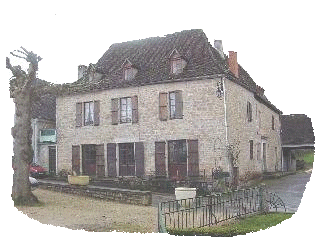 Le Petit Dragon Rouge
TRAVEL OPTIONS - BY CAR
The cheapest method is by the Channel Tunnel although this does incur more tolls on the French side. Estimated times are for cruising at 70mph. There is always the option of a stopover in Paris if travelling via the tunnel.
1. Neath - Folkestone - Channel Tunnel - Paris - Miers (770 miles)
Travel time approx 14 - 20 hours including stops, times depend on cruising speed and stops. Channel Tunnel cost approx £125 - £150 - using off peak hours, for 4 passengers in car
**************************
2. Neath - Portsmouth - Le Havre - Miers (638 miles)
Travel time - approx 18 - 20 hours including stops and ferry.
Ferry cost £150 - £450 for 4 passengers in car, we've found LDLines to be the cheapest, £150 - £250 depending on which day you travel.
************************
TRAVEL OPTIONS - BY PLANE
Fares by plane change daily, the most direct route from South Wales is Bristol to Bergerac, check out the websites below for options, last minute flights can sometimes be picked up for next to nothing.
Pick ups from the airport are sometimes possible, check with LPDR first if this is available.
info@lepetitdragonrouge.com