Sports Coaching & Personal Training with Dai Richards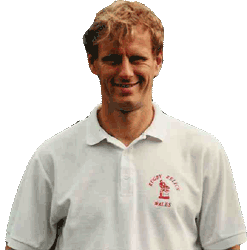 You are different, I am different, we are all individuals, even twins, one will beat the other in a race or game which is why each person's training programme should be different. I've coached myself in triathlon from day 1, my personal philosophy is simple, train to your weakness, race to your strengths, that's not to say you should ignore your strengths. When I entered multi-sport/triathlon in 1985 I came from a running background, my swimming was absolutely rubbish. I worked on it showing a gradual improvement each year. In the year 2000 I exited the water amongst the top ten swimmers in the World Quadrathlon championships. This allowed me to race to my strengths later on in the bike and the run, I finished 8th overall and winning the veteran's title. But that's just me ! Everyone is different and it's discovering what makes each individual perform to the best of their ability, then putting together a training programme that is specific to that person is what my coaching is all about.
If you have come directly to this page then you've probably stumbled across it because you've searched "triathlon coaching" or maybe "triathlon coaching in Wales" which is what this page is all about. If you want more info about me please go to my HOME PAGE ( CLICK HERE ) or my DIARY PAGE ( CLICK HERE ) .
TRIATHLON, SWIMMING, CYCLING & RUNNING COACHING - If you are looking for a triathlon coach then perhaps you have found the right person. I can coach all levels of abilities in these sports from beginners to world class standard. In the sport of triathlon I have actually coached athletes from beginner to international athlete in two years. If you are looking for one to one individual sport specific coaching sessions, a tailor made personal training programme or a coached group training session for your club then I'm your man. I have 1000 plus hours of triathlon coaching in the bank and although I'm not the most qualified coach in Wales (currently level 2 triathlon), I am one of the most experienced. If you combine this with being one of the most experienced triathletes in Wales, you almost have all of the ingredients to complete your recipe for success, the only thing missing is YOU. Have you got what it takes...........................
For further information on Sports Coaching & Personal Training with Dai Richards please click on the link below to visit my dedicated website
www.personal-trainer-wales.com