1911 Census - Jones household living at 66 Coronation Rd (now Dalton Rd), Mount Pleasant, Neath - Ray Milland age 4

Alfred Jones 35 (born abt 1876 Pontypool, Monmouthshire) - Sheet Millman
Elizabeth A Jones 26 (abt 1885, Cardiff, Glamorgan)
Alfred Reginald Jones 4 (abt 1907, Neath, Glamorgan)
Beryl Jones 1 (abt 1910, Neath, Glamorgan)
Enid Jones 3 mths (abt 1911, Neath, Glamorgan)


1901 Census - household containing Elizabeth Truscott believed to be ARJ mother living at 4 Bush Row, Melincrythan, Neath

Thomas Evans 65 Head (abt 1946, Cardiff, Glamorgan) - Tinworker
Maria Evans 65 wife (abt 1946, Cardiff, Glamorgan) - Tinworks Shearer
Elizabeth Truscott 16 niece (abt 1885, Cardiff, Glamorgan)
*****Margaret Durbin 2 adopted (abt 1899, Neath Glamorgan)*****
William James 72 (abt 1829, Aberavon Glamorgan)

Margaret Durbin - known as Maggie married Clifford Snow, brother of Gertie Snow my grandmother. This is a complicated one. If Maggie Durbin was adopted into the family and Elizabeth Truscott was a niece then that makes them first cousins. Maggie Durbin was my grandmother's sister-in-law so I think that makes my mother Ray Miland's 2nd cousin possibly. I spent 5 miles on the bike trying to work it our yesterday and I still don't know.

Interestingly there are Durbin's living next door, Mary Durbin (wife - but no husband listed) and Elizabeth Durbin, daughter age 8 months. It looks like the father is not at home so Maggie was maybe put up for adoption. It's a difficult one that because the family (next generation down) keep pretty quiet about what went on there even 110 years later.
1901 census - Alfred Jones born 1876

He'd be age 25 - his wife Elizabeth A Jones (supposedly nee Truscott) would have been 16 - in 1901 - top return is listed as Alfred John Jones Royal Horse Artillery which ties in with RM's story of his father being in the cavalry - on census he is listed as being born in Newport, Monmouthshire, same as Elizabeth Richards daughter of Mary Ann Jones age 21.

CHECK MARRIAGE CERTIFICATE OF ALFRED JONES & ELIZABETH TRUSCOTT 1906 - 1902 ?
Alfred Jones' father is listed as James Jones, (Carpenter), and he is listed as living at Morgans Road, Melincrythan, Neath.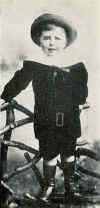 Reggie age 3
the book arrived and the autobiography "Wide Eyed in Babylon" states.......
My father was not a cruel or a harsh man. just a very quiet one. I think he was an incurable romantic and consequently a little afraid of his emotions and perhaps ashamed of them . To me, he was rather a tall man , very handsome, with black hair and eyes the colour of sherry. His nose was aquiline and thin, and he wore a fierce cavalry moustache; he had in fact been a young hussar in the Boer War and had been present at the relief of Mafeking. He never held long conversations with anyone, except perhaps with me, possibly because I was the only other male in the family. The household consisted of my mother, a rather flighty and coquettish woman much concerned with propriety and what the neighbours thought, my three sisters exactly one year apart, and Mary Catherine, our housekeeper and laundress. She was also the maid, the cook, and our comforter and shield. I think she was a relative of sorts on my father's side, but it was a relationship never spoken of, shadowy and secretive.
I know that my grandfather, a huge black bearded man, had been married twice, a state which in Wales is looked upon rather like leprosy. On top of that his mother had been a Spaniard, which in our county made us all rather suspect. In all he had ten children, two girls by the first wife and eight sons by his second. My father was the seventh son. He was christened Alfredo, which he never admitted. My father's half sisters were Emma and my wonderful Aunt Luisa. Each of my father's brothers had four or five children, so you know that Wales is just crawling with my relatives.
Later on in the book Aunt Luisa reveals to Ray that his father was born upstairs in the Nightingale Inn in Monmouthshire because the grandfather was delivering a new wagon he had built to some millers in Usk.
Q - Was MARY ANN JONES, James Jones' first wife - according to the 1891 census she is 33 years older than her eldest child so is she the mother of Emma & Luisa and these two girls stayed with the father while she started a new family with James Richards. The ages look to be about right.