Rugby Relics are proud to be able to offer this once-in-a-lifetime opportunity. The Legends of World Rugby. This limited edition book has been signed by the greatest players from around the world from the amateur era.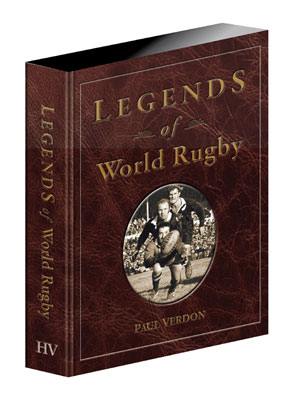 Colin Meads, Gareth Edwards, David Campese, Barry John, Hugo Porta, Frik du Preez, John Eales, Michael Jones, Naas Botha, Willie John McBride, Tony O'Reilly, Sean Fitzpatrick, Cliff Morgan, Joost van der Westhuizen, Joel Stransky, JPR Williams, Jackie Kyle …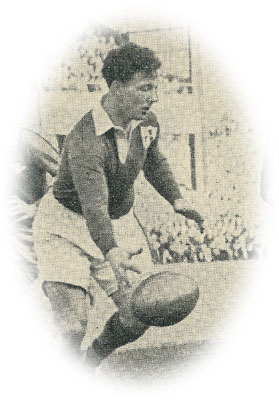 That's just for starters!
Add Mike Gibson, Philippe Sella, Mervyn Davies, Mark Ella, Michael Lynagh, Fergus Slattery, Nick Farr-Jones …
Plus more stars from the 1940s, 1950s and 1960s such as Benoit Dauga, Walter Spanghero, Jackie Matthews, Dickie Jeeps, Lucien Mias, Nick Shehadie, Pierre Villepreux, Jo Maso, Bleddyn Williams …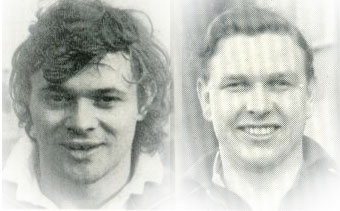 There are All Black greats such as Ian Kirkpatrick, Brian Lochore, Kevin Skinner, Grant Fox, Bob Scott, Wilson Whineray and 'Tiny' White Sid Going …
Every player signed up for the project
Now you're beginning to see the quality of this collection in Legends of World Rugby. These are just some of the 74 legendary players – every player involved – who've signed each precious limited edition.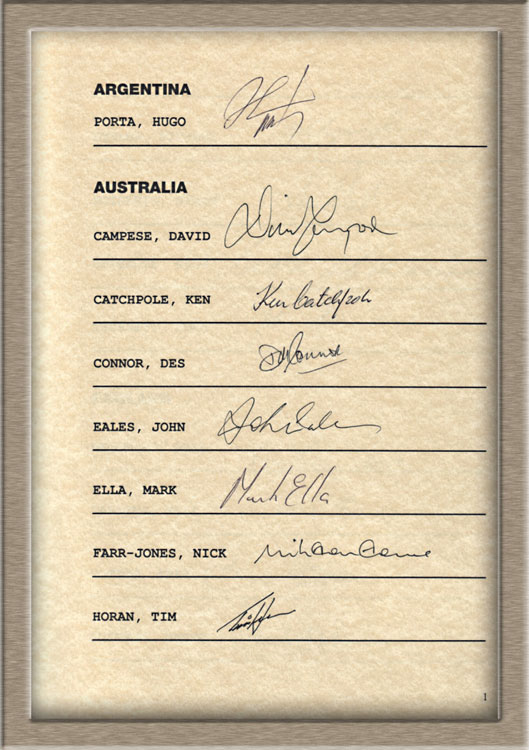 "Never before and never again" is quite a call when used to describe a book on the legendary players from around the world.
But in producing 'Legends of World Rugby', a collector's piece of unprecedented intrinsic and historical value has been created.
Never before has a project involving such a galaxy of stars been attempted. The mammoth task took several years to complete.
All Black great Colin 'Pinetree' Meads kindly wrote the letter of introduction to these men, detailing the project on behalf of the author.
Then from Porta in Buenos Aires , to du Preez in Mafeking , to Sella in Villeneuve Sur Lot, to McBride in Ballyclare, to Scott in Whangamata, to Campese in Durban , to Andy Irvine in Edinburgh , to Edwards in Porthcawl …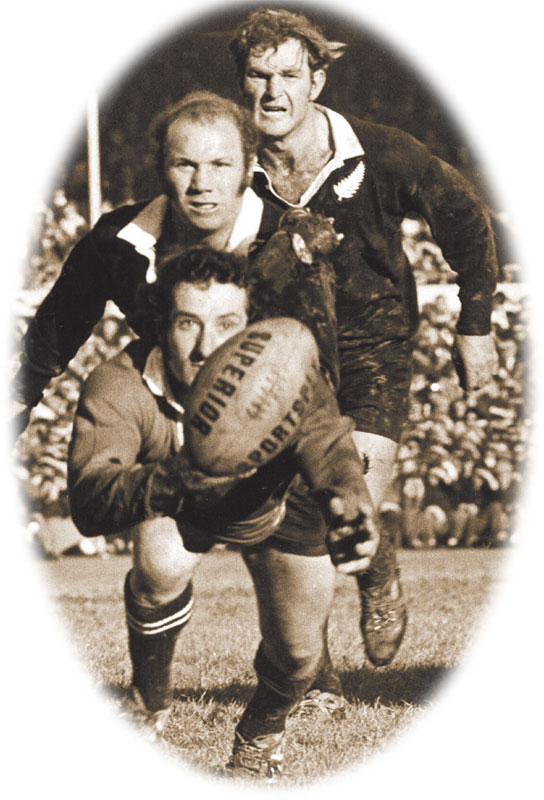 ... the journey of the signing material inexorably continued.
There are 100 'Legends' who are covered in this fabulous book. Out of respect to the dead, the balance of players is made up of legendary players who are now deceased, the men who will never be forgotten, the greats of yesteryear include Gwyn Nicholls, Gerry Brand, Gordon Brown, Danie Craven, Billy Wallace ....
Each chapter analyses the often superb contribution the player made to the history of the rugby game and to his own country's fortunes. The author's efforts ensured the player's life since his retirement was covered too. A 'bio box' also rounds out each player's coverage.
The book contains wonderful photography, with many historic shots, sets off all 100 of these remarkable players' careers.
The presentation of Legends reaches all new standards.
The book comes in a handsome presentation – an embossed padded cover Special Edition sits snugly contained inside a lined 'cigar box' (lift-up top) outer shellcase. Vibrant new colours are involved.
This may all sound 'technical' and printer's 'jargon', but believe us, this book is beautiful and truly something to behold.
There is a certificate of authenticity (signed by the author) and a written guarantee that it is restricted to only 533 copies worldwide.
Each edition is numbered and there is a money-back guarantee
*****
THE LEGENDS
FEATURED
ALBALADEJO, PIERRE ( FRANCE )
BEAUMONT, BILL ( ENGLAND )
BENNETT, PHIL ( WALES )
BOTHA, NAAS ( SOUTH AFRICA )
BRAND, GERRY ( S AFRICA )
BROWN, GORDON ( SCOTLAND )
BROWNLIE, MAURICE ( NZ )
CAMPESE, DAVID ( AUSTRALIA )
CARLING, WILL ( ENGLAND )
CATCHPOLE, KEN ( AUSTRALIA )
CLAASSEN, JOHAN ( S AFRICA )
CLARKE, DON ( NEW ZEALAND )
CONNOR, DES ( AUSTRALIA )
COOKE, BERT ( NEW ZEALAND )
COTTON, FRAN ( ENGLAND )
CRAUSTE, MICHEL ( FRANCE )
CRAVEN, DANIE ( S AFRICA )
CRAWFORD, ERNIE ( IRELAND )
DAUGA, BENOIT (FRANCE)
DAVIES, DAVE ( ENGLAND )
DAVIES, GERALD ( WALES )
DAVIES, MERVYN ( WALES )
DAVIS, GREG ( AUSTRALIA )
DUCKHAM, DAVID ( ENGLAND )
DU PLESSIS, MORNE ( S A )
DU PREEZ, FRIK ( S AFRICA )
EALES, JOHN ( AUSTRALIA )
EDWARDS, GARETH ( WALES )
ELLA, MARK ( AUSTRALIA )
FARR-JONES, NICK ( AUSTRALIA )
FITZPATRICK, SEAN ( N Z )
FOX, GRANT ( NEW ZEALAND )
GAINSFORD, JOHN ( S AFRICA )
GERBER, DANIE ( S AFRICA )
GIBSON, MIKE ( IRELAND )
GOING, SID ( NEW ZEALAND )
GRAY, KEN ( NEW ZEALAND )
HASTINGS, GAVIN ( SCOTLAND )
HORAN, TIM ( AUSTRALIA )
IRVINE , ANDY ( SCOTLAND )
JACKSON, PETER ( ENGLAND )
JEEPS, DICKIE ( ENGLAND )
JOHN, BARRY ( WALES )
JONES, CLIFF ( WALES )
JONES, KEN ( WALES )
JONES, MICHAEL ( N ZEALAND )
KIRKPATRICK, IAN ( NZ )
KYLE, JACKIE ( IRELAND )
LAIDLAW, FRANK ( SCOTLAND )
LAWTON , TOMMY ( AUSTRALIA )
LOCHORE, BRIAN ( NZ )
LOUW, BOY ( SOUTH AFRICA )
LYNAGH, MICHAEL ( AUSTRALIA )
MASO, JO ( FRANCE )
MATTHEWS, JACKIE ( WALES )
McBRIDE, WILLIE JOHN ( IRELAND )
McCORMICK, FERGIE ( NZ )
McGEECHAN, IAN ( SCOTLAND )
McLAUCHLAN, IAN ( SCOTLAND )
MEADS, COLIN ( NZ )
MIAS, LUCIEN ( FRANCE )
MORGAN, CLIFF ( WALES )
MORKEL, GERHARD ( S AFRICA )
MULLEN, KARL ( IRELAND )
MULLER, HENNIE ( S AFRICA )
MURPHY, NOEL ( IRELAND )
NEARY, TONY ( ENGLAND )
NEPIA, GEORGE ( NZ )
NICHOLLS, GWYN ( WALES )
O'REILLY, TONY ( IRELAND )
OSLER, BENNIE ( S AFRICA )
PILLMAN, 'CHERRY' ( ENGLAND )
POIDEVIN, SIMON ( AUSTRALIA )
PORTA, HUGO ( ARGENTINA )
PRAT, JEAN ( FRANCE )
PULLIN, JOHN ( ENGLAND )
QUINNELL, DEREK ( WALES )
RIPLEY, ANDY ( ENGLAND )
RISMAN, BEV ( ENGLAND )
SCOTT, BOB ( NEW ZEALAND )
SELLA, PHILIPPE (FRANCE)
SHEHADIE, NICK ( AUSTRALIA )
SKINNER, KEVIN ( NZ )
SLATTERY, FERGUS ( IRELAND )
SMITH, IAN ( SCOTLAND )
SPANGHERO, WALTER ( FRANCE )
STRANSKY, JOEL ( S AFRICA )
TELFER, JIM ( SCOTLAND )
THORNETT, JOHN ( AUSTRALIA )
TOWERS, CYRIL ( AUSTRALIA )
TREMAIN, KEL ( NEW ZEALAND )
UNDERWOOD, RORY ( ENGLAND )
VAN DER WESTHUIZEN, JOOST ( SA )
VILLEPREUX, PIERRE ( FRANCE )
WALLACE, BILLY ( NZ )
WHINERAY, WILSON ( NZ )
WHITE, TINY ( NEW ZEALAND )
WILLIAMS, BLEDDYN ( WALES )
WILLIAMS, CHESTER ( SA )
WILLIAMS, J P R ( WALES )