RUGBY RELICS HOME - MUSEUM AT RUGBY RELICS HOME
1946 TWICKENHAM TICKETS
from the collection of Eric Martin, Taree, NSW, Australia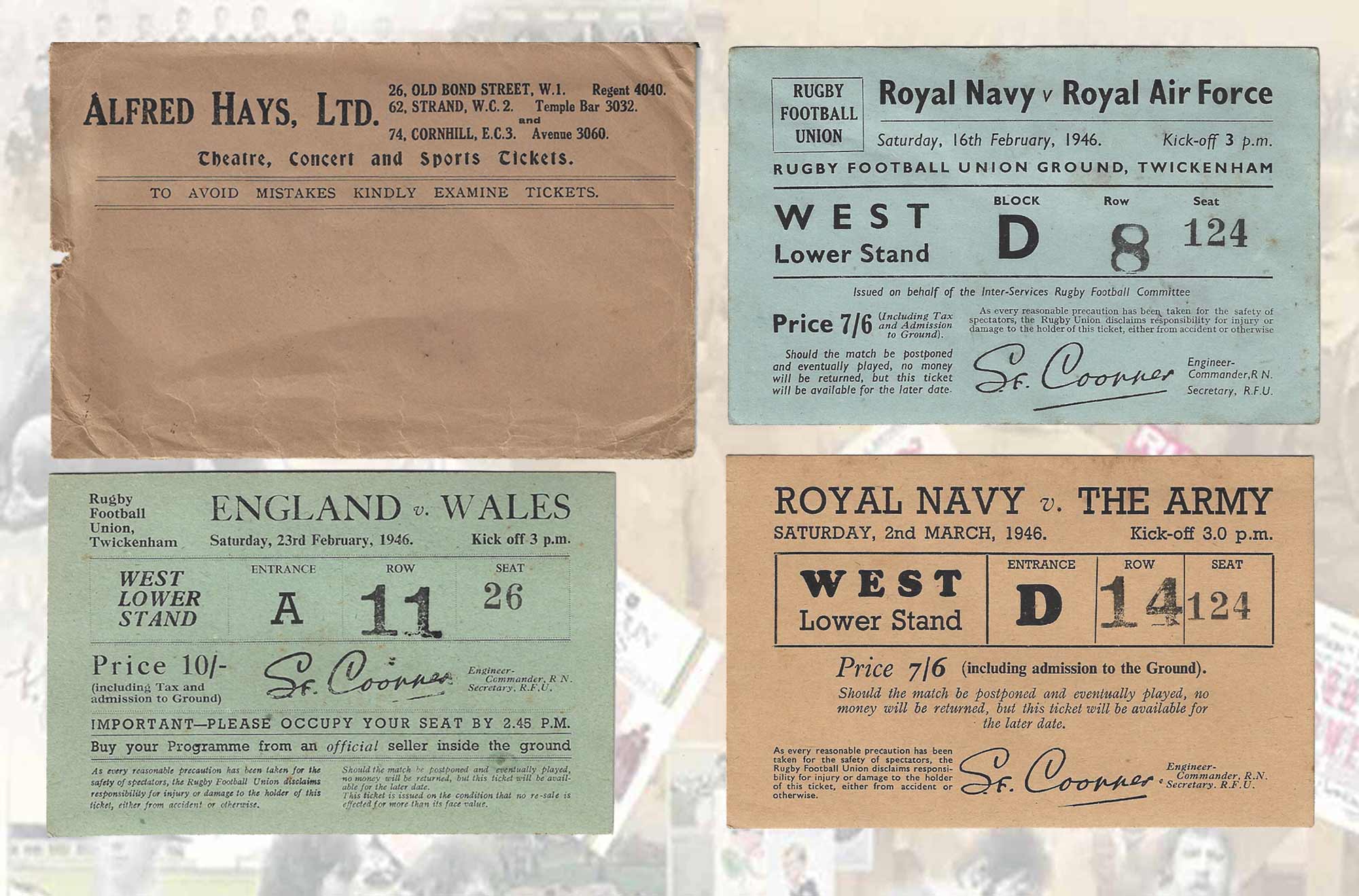 This small collection of Twickenham tickets dating from 16 February to 2 March 1946 belonged to the late Eric Martin (Eric Walwyn Ormsby Martin 1900-1973) who was in London just after World War II. They have been donated to our museum by his nephew Hugh Martin.

Eric Martin would have been almost 50 in 1946. He learned to fly in the 1930s but Hugh doesn't think he ever flew whilst in the Services. He came from Taree, a town on the north coast of New South Wales where he was a solicitor in the firm founded by his father, Lewis Ormsby Martin. L O was the local MP, a cabinet minister in the State Government. Both Lewis and Eric were mayor of Taree in their time.

Hugh's own connection with rugby was as a spectator other than playing at school, he continues........

"........... My class mate was Ken Catchpole. Even as a school player, Ken was amazing on the field.
It was such a tragedy that he was injured at the height of his career. My other rugby acquaintance was Stuart Boland, second row for Australia for some years. He was a year or two behind me at university. My maternal grandfather was a keen rugby player. I have photos of his team dating I believe from the 1880s, as captain holding a ball with "Arfoma F C" on it"

L.O. Martin 1870-1944
"TO AVOID MISTAKES KINDLY EXAMINE TICKETS"
2Y/27
The tickets look to have been obtained from the ticket agency Alfred Hays Ltd, they are contained in a printed envelope by Alfred Hays Ltd theatre concert sports tickets with the sage advice

"TO AVOID MISTAKES KINDLY EXAMINE TICKETS"

2y/13
This Alfred Hays (illustration only) record sleeve gives more information about the company, it would seem that they were in the main musical instrument, gramaphone sales and records specialists who dabbled in the agency and event ticket business. An internet search has identified that it is most likely that the company no longer exists, no current information about it can be found.
MATCH INFORMATON
Navy v RAF
16 Feb 1946
Twickenham
6-9
very good
match report
CLICK HERE
England v Wales

Victory international, caps not awarded

23 Feb 1946
Twickenham
0-3
very good
match report CLICK HERE
Navy v The Army
2 Mar 1946
Twickenham
6-11
very good
match report CLICK HERE
ASSOCIATED EXHIBIT
Navy v RAF

AUTOGRAPHED PROGRAMME

16 Feb 1946
Twickenham
signed by RAF team apart from 2 & by 1 navy player - CLICK HERE to view autographs of RAF team
Acknowledgements
Hugh Martin, Australia, Dai Richards (World Rugby Museum), Rob Cole, Westgate Sports Agency,
Thank you for visiting this page. If you are able to contribute any other memorabilia, stories, photos or information to this page, please CLICK HERE

to email us.