Who was the first woman of rugby ?
by John Birch
What we know so far…..
In 1884 Portora Royal School in Enniskillen, Co Fermanagh in Ireland was going through a difficult period. Student numbers were low and Mr Steele – the aged headmaster – passed on the effective running of the school to Classics master and Assistant Headteacher, William Valentine, who had joined the school in 1883.
Valentine had at least three children of school age including William (aged about 16), John (aged about 10/11), and "Miss E F Valentine" all of whom attended the school. The three children wanted to play rugby, and with the help of several friends started playing. To begin with this was not supported by the school, who denied them access to the main school field, but they still practiced and played intra-school matches every Saturday. The first official matches against external opposition took place in 1887, but several records suggest that there were games as early as 1885 against local opposition, possibly in combination with Enniskillen Rugby Club.
School records, and letters from Miss Valentine (later Mrs Galway) in the 1950s, show that she definitely took part in the practices and intra-school games, and some records suggest the external games as well. Several sources say that the entire three-quarter line was made up of Valentines, with Miss E F playing on the wing.
William Valentine (snr) would appear to have left the school in about 1891 when a new head was appointed. Both William (jnr) and John went to Trinity College , Dublin . Miss E F married and appears to have moved to Canada , though there is some suggestion that she may have moved to South Africa .
Why is this significant?
There may not appear to be much information – but there is far more known (and documented!) about Miss Valentine that William Webb Ellis, the supposed "founder" of the game!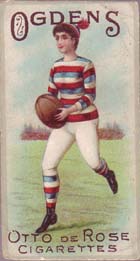 However more than this there are – astonishingly - simply no other records at all of any women or girls playing rugby of any sort in the nineteenth century – either as individuals or as teams. The only other nineteenth century record of about an abortive attempt to form a women's touring team in New Zealand in 1891. There are some vague suggestions of some women playing rugby in France in 1903, and a passing reference to a coach organising a girls game on a beach in England in 1913, but other than that there is no signs of any women or girls actively involved in rugby until at least 16th December 1917 when a charity match took place at Cardiff Arms Park between "Cardiff Ladies" and "Newport Ladies", Cardiff winning 6-0.
After that a handful of photographs, and less than two minutes of film, shows that women's rugby was played in France, Australia and New Zealand in the 1920s and 1930s, but there are no records of who played and how popular was – and these pioneering attempts ended with the War, after which there are no records of any women playing rugby until the 1960s when the game began to be played in the UK, North America and France. Women's clubs began to appear in these countries and New Zealand 1970s, and the first international was played in 1982.
But it was not until 1990 – over 100 years after Miss Valentine fought to get her school team started – that Ireland 's first women's club was formed.
Is this the complete story?
Women's sport rarely gets the coverage that men's sport gets – but despite that we know that women's cricket has been played for over 250 years, and women's football has a well documented history going back 100 years. Compared to these sports women's rugby's history is patchy and incredibly recent – so much so that anyone who played or has any stories, photographs or records from even before 1960 and 1970s may not realise how important they are. What we are looking to do is to uncover this hidden history of the game!
With this in mind what we are hoping to do it find out…
Anything more we can discover about the remarkable Miss E F Valentine!
Were there any other Miss Valentines? It would, perhaps, be even more remarkable if she really was the only female to play rugby before 1900!
Any other "hidden" tales and – above all – photographs of women playing rugby (or even being prevented from playing). Even tales as recently as the 1960s and 1970s would be significant finds, and anything before that pure gold.
CLICK HERE TO VIEW A SHORT CLIP ABOUT EMILY VALENTINE ON THE BBC
CLICK HERE FOR A LIST OF WOMEN'S INTERNATIONAL RESULTS 1982 - 2009

CLICK HERE TO EMAIL JOHN BIRCH