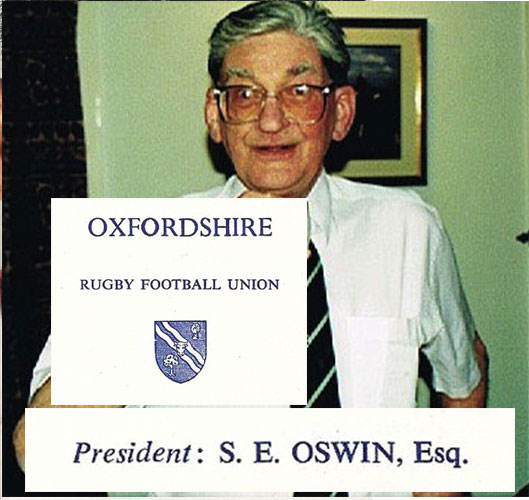 STAN OSWIN (1929-2007)

Few men during rugby union's amateur era provided a more shining example of how to give something back to the game than Stan Oswin. An Oxfordshire solicitor who started his life-long love affair with rugby union as an Oxfordshire schoolboy, he gave yeoman service as a flanker to his beloved Oxford club before dedicating much of his leisure time to the administration of the game at club, county and eventually national level once his playing days were over. Stan was devoted to rugby.

Stanley Edward Oswin was born near Nuneaton in Warwickshire – good rugby country - on 13th February, 1929 but first proved his sporting potential as a teenager at Magdalen College School in Oxfordshire.
*****
Stan captaining the hockey team and he is pictured to the right of the captain in the rugby photo.
*****
After leaving school with a reputation as a good all-round sportsman he became well-known on the Oxfordshire club circuits as a cricketer with North Oxford in the summer months and as a rangy wing-forward – as they were then called – with the Oxford (city) rugby club.

Oxford, founded in 1909, were the oldest open rugby club in the county and by the time Stan joined them in 1950 they were enjoying a strong fixture list that included crack Midlands clubs such as Moseley, Nuneaton and Coventry (who in the mid-fifties were regarded as among England's top-flight), not to mention an Oxford University side that at the time was regarded as a proving ground for future international players. In "town v gown" variations it was not uncommon for Stan to find himself facing such household rugby names as Onllwyn Brace and Robin Davies from Wales, John Currie and Peter Robbins of England, or even in direct opposition to "Chick" Henderson, the noted South African flanker who was capped by Scotland.

Stan was a first-team regular throughout the decade and an integral part of the back-row that in 1956-7 helped Oxford to win more matches than ever before. That year he was also among twelve club members who gained county honours when Oxfordshire reached the quarter-finals of the County Championship for the first time.

Oxfordshire had become affiliated to the Rugby Football Union (RFU) as a county in 1932 and after serving an honest junior membership became constituent members of that august body in 1949-50. It meant that they could now participate as a single county in the RFU's County Championship, a tournament whose qualifying stages took place in the autumn months and were regarded as the preliminaries to the England national trial matches.

In December 1956, Stan was a member of the Oxfordshire pack that beat Sussex 12-3 in the final round-robin tie of the Southern Group of the County Championship, one reporter noting, "the big, lively Oxfordshire back-row baulked Sussex." The county's win that day entitled them to a further play-off against Dorset & Wilts, whom they duly beat to progress to the quarter-finals of the Championship for the first time.

As his playing days were drawing to a close, Stan was elected to the committee of the Oxfordshire Rugby Union, soon becoming its team secretary. A thankless task requiring strong organisational skills and infinite patience, he fulfilled his duties with calm efficiency and an engaging humour for more than a decade (1957-68), latterly assuming the role of chairman of selectors. It helped that he retained a youthful appearance well into middle age, while his unbounded enthusiasm for rugby in all its aspects eased the bonding process with the younger players in his charge.

Raising the profile of schools and colts rugby was a project close to his heart and during his time the county oversaw the development of the famous Oxfordshire Schools Sevens into one of the largest one-day events on rugby's calendar.

Between 1968 and 1970 he was the county president and he went on to serve a further fifteen years on the committee before finally retiring in 1995 as rugby's professional age dawned. When he stood down as an active member he was one of the county committee's longest serving administrators; indeed, along the way the Oxfordshire Rugby Union had recognised his considerable contributions by bestowing honorary life membership on his broad shoulders.

In 1977 he had been the county's automatic choice to succeed Sam Miller as Oxfordshire's representative on the RFU committee. There his administrative service was equally valued by top level officialdom. Decisions from on high are not always welcome by the grassroots, but in Stan Oswin the national Union had a man of unquestionable integrity whose wise counsel could be relied upon to steer a clear path through the most troubled of waters.

These qualities were especially in evidence when the RFU, with sponsorship from Courage, introduced leagues in 1987. The huge programme was the largest in world sport but not without its teething problems. Below the shop window of the National Divisions responsibility for ensuring that the programme was an unqualified success was devolved to local administrators. As the county representative on the governing body, Stan, who welcomed the arrival of leagues unreservedly, stepped forward to resolve local difficulties when they arose. Bob Rogers, later a respected president of the RFU, remembered working with Stan at this time and forming an "enduring respect for a fine colleague."
Stan, who was a senior partner in a firm of Oxford solicitors and lived near Abingdon, died after a long battle with cancer on 2nd January, 2007. He was 77. Bob Rogers, writing as president on behalf of the RFU paid his respects in a letter to Stan's daughter, saying: "Stan was a great administrator both in his county of Oxfordshire and nationally during his service with the RFU. His contribution during his 18 years with the RFU (1977-1995) was enormous and his friendliness and enthusiasm was enjoyed by all who worked with him. He will be greatly missed in the corridors of the game."

There could be no finer tribute.